Marc McNulty: Hibs striker opens up on lockdown and the one match he is really pining for
Striker admits 'it's all a bit mental' right now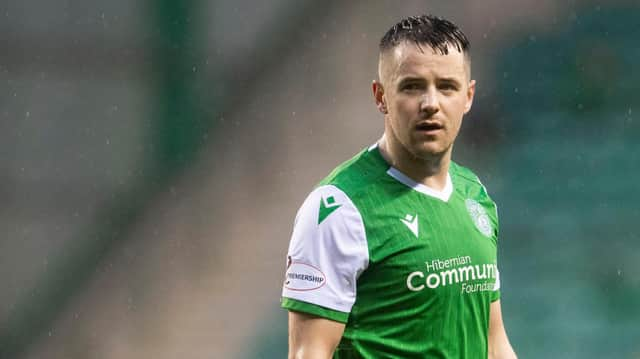 While the nation continues to bicker over the league season, Hibs' Marc McNulty is more preoccupied with what happens to the outstanding Scottish Cup matches.
Well, that and how best to keep a toddler entertained while in lockdown.
Finding solutions to the latter is proving easier - just - than gaining answers to the former. But both are keeping him on his toes during quarantine.
"That's the one game I keep thinking about," said the 27-year-old striker, who returned to Hibs in January for a second loan spell. "We obviously should have played that by now and I have thought about what it would've been like. I know a lot of people in the city, both sides, who were hoping to make a big day out of it. It would have been great for me. I haven't played at Hampden with Hibs and being an Edinburgh lad and playing there in the semi final of the cup, in an Edinburgh derby, would have been unbelievable.
"People still talk about other derbies that have been played at Hampden in the cup and these are the kind of games you will always remember as a player. Playing at your national stadium, against your biggest rivals, and growing up in Edinburgh I know what it is all about and what it means to the fans.
"It is one of the reasons why we all want to get back out there, to get that game played.
"Even if the league isn't finished, it would be unbelievable if they somehow found a way to play the semi finals and final. The game against Hearts isn't just a derby, it is the chance to move a step closer to hopefully winning the cup with Hibs.
"It would be unbelievable if they found a way to play the cup games but, to be honest, any game would be good just now!"
Like so many, McNulty is pining for the game. Grounded and humble with a laudable line in positivity, he has prioritised playing above virtually everything else when it comes to deciding where to ply his trade. Willing to forfeit finance and move in the search of self-improvement, self-fulfilment, success and the joy of simply playing a game he loves, he admits he is struggling to cope with the enforced shutdown and missing the training ground camaraderie, the clarity over whether the season will resume or not and when that will be known.
"I know there are more important things happening in the world and although things are difficult, the important thing is keeping people as safe as possible. But, it is all a bit mental. "Normally, players get four to six weeks in the summer but we can't go into the training ground. But, it's not a holiday because we don't know what is going to happen and whether we are going back in a week, a month, or next season, we have to make sure we are fit and as ready as we can be."
After he hit the ground running on last season's loan spell at Easter Road, the Scotland international admits that things have been tougher this time around. "Sometimes you are lucky and it clicks right away and I think that's what happened last season and it was great," McNulty admits. "This season, my form wasn't absolutely terrible but I wouldn't say it was as good as last season or how I think it should be. I was disappointed but the more you play, the better you become.
"The most important thing is to be honest with yourself and if your form is not great or if your form is good, recognise that. You have to be tough on yourself to a certain extent but i am one of those guys who believes that as long as there is another game, it is in my own hands. I always believe I am that one game or one goal away from a good run of form."
And if the season resumes, he wants to be as ready as he can be.
"We can get out for an hour a day and go for a run around the local park because there's not many people about but it's not like going into the training ground with another 50 people and I think we all miss the banter and being about all the lads."
He doesn't share some of team-mates' gaming passion but does stay in touch. "We speak to each other and have a group chat on Whatsapp and we have a running app where we all log our data."
The peer pressure of posting daily efforts online for team-mates and staff to see has kept everyone motivated, with "everyone scared not to do it". But the uncertainty over contract situations - "I'm at Hibs until the end of this season, whenever that is then I'm supposed to head back to Reading for pre-season. I have two years left but I haven't heard from them yet and I will need to have a chat with the manager to see what happens" - and whether one season will simply blend into another makes things tough.
"I have been lucky because my mate has a gym and before the shutdown we managed to get some equipment from there and my living room has been turned into a makeshift gym."
But, it is a crazy time. Especially when combining work-outs with trying to help his energetic, almost-three-year-old son Freddie understand why he isn't allowed outside to play whenever he wants and why he can only wave to his grandparents from the window.
"At the end of the day, the most important thing is family and everyone staying healthy but it is hard for him because he doesn't understand about germs or what is going on and we are online, looking up ways of keeping him entertained. It's hard work. I think he misses getting out even more than I do. It is a mental time. But it will be over eventually. We just need to do as we are told until then."