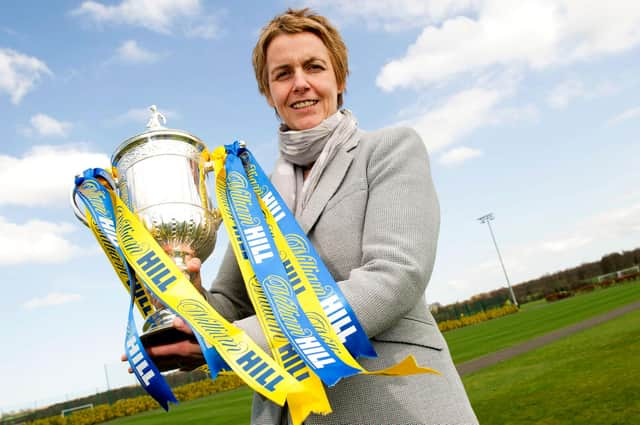 Hibernian Chief Executive Leeann Dempster was at the helm as the club finally ended the 114 year wait for a Scottish Cup triumph. Photo by Craig Foy/SNS Group.
While people will always remember on-field achievements; winning promotion, earning a return to Europe and the events of May 21, 2016, as well as those hazy, crazy days that followed, that huge demonstration of renewed connectivity will be her real legacy.
It speaks to the bridges that have been built and the hard work spent re-engaging with the fans and the community, and closing the once gaping chasm between them and the board.
As well as strengthening departments behind the scenes, she has a solid record of bringing in managers and players who have delivered success and given the Hibs community a sense of pride in their club that had been severely tested.
Hibernian Chief Executive Leeann Dempster with fans at full-time of the Scottish Cup final win over Rangers in 2016. Pic: Craig Foy SNS Group
When she agreed to take on the job, in the spring of 2014, having been tempted away from rivals Motherwell, Hibs were a mid-table club. When they went into freefall and were ultimately relegated, many would have forgiven a volte face. Instead, she chose to view it as an opportunity to wipe the slate clean and start afresh, building solid foundations rather than plastering over cracks.
In her first days at the club she tried to find her feet as a thousand or more fans held a rally in the car park, calling for the head of chairman Rod Petrie, and club legend Pat Stanton stood on the back of a lorry bemoaning a general malaise. He accused players of not being passionate or brave enough and challenged the new woman in charge to listen to opinions outwith the boardroom.
"It's unfortunate that she has walked into all these problems but there are plenty of people around who, if she asked, would be willing to help her.
"You can't have the supporters running the place, we know that, but they have to engage with them. Most would be happy to do what they have to do for the good of the club."
But, in Dempster, he was preaching to the converted. On the football side, she and the support were in agreement that Terry Butcher needed to go. Sacking him was one of her very first acts.
Cup win and promotion
Then came the job of finding his replacement, bringing in Alan Stubbs.
It was her desire to unify the club and rid it of its soft-centre and reputation for style over substance. The notion of Hibsing it was one that would come to rile her more than virtually any slur.
"You have to be bold," she said in an interview ahead of that 2016 Scottish Cup final, when she revealed a determination not to let any negativity creep into the collective psyche ahead of the Hampden showdown, despite slip ups in the League Cup and the quest for promotion that had already led to a sizeable financial loss for the season. "The foot will not be coming off the pedal.
"There are expectations at this club and we need to fulfil those."
First the Scottish Cup: tick. Then the following year came the return to the Premiership, as Stubbs moved on and she replaced him with Neil Lennon, who, as she had hoped and expected, imbued a winning mentality in everyone around the club, not just the football department.
But it wasn't just on the pitch where she helped concoct a formula for success, off it she oversaw a restructuring and a marketing and engagement programme that saw revenue increase as well as the club's credibility and standing in Leith and the wider football community.
Willing to fight for what she believed in she would defend the club, its fans and its staff whenever she felt it was necessary but was also brave enough to remind them of their responsibility to Hibs and each other when they came up short of expectations, whether that be crowd behaviour, football in-fighting or staff failing to emulate her work ethic.
Swift and decisive
Never claiming to know everything about everything, she was self-assured enough to bring in expertise, which is why George Craig and then Graeme Mathie were enlisted to oversee football matters.
But, that did not mean putting a distance between herself and the players, who she always saw as human beings rather than commodities; young men, she said, the club had a duty of care for.
Which is why she stepped into the row with Lennon and Flo Kamberi, with the relationship between manager and chief executive ultimately becoming untenable.
She replaced him with Paul Heckingbottom and although that did not work out, she was swift and decisive in calling time on his tenure and recruiting Jack Ross.
In June, with Hibs almost a year into Ron Gordon's ownership, she dismissed rumours that her relationship with the US-based entrepreneur was a strained one. But it is known that there was some friction that possibly stemmed from the fact that, unlike Dempster, he simply wasn't there when the club was at its low ebb and subsequently couldn't understand just how far it has come.
The covid pandemic and ensuing tumult has tested her since March and forced her to take more tough decisions to protect the club's future but it will also have given her cause, like most people, to reassess their life and with light at the end of the tunnel, she says fans should be excited by the owner's plans for the future.
She won't be there to implement them but by showing respect for the history and tapping into the ethos of the club while refusing to allow her time there to be dominated by it, or the future to be defined by it, she has laid solid foundations on which others now need to build. But, without her, it won't be easy.
A message from the Editor:
Thank you for reading this article. We're more reliant on your support than ever as the shift in consumer habits brought about by Coronavirus impacts our advertisers. If you haven't already, please consider supporting our trusted, fact-checked journalism by taking out a digital subscription.