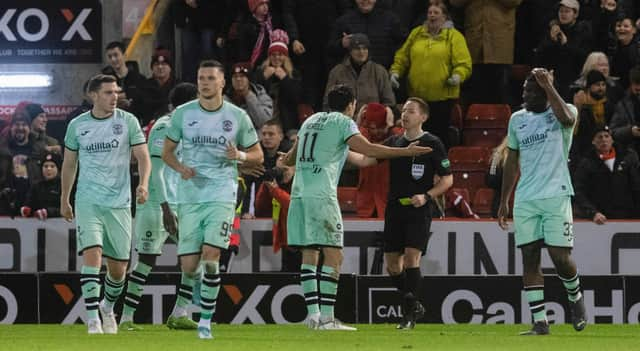 The capital side had looked comfortable until Aberdeen were awarded a penalty kick just before the interval when the official agreed that Luis 'Duk' Lopes had been felled by Hibs keeper David Marshall.
It was a decision which caused frustration as it took an age to make, which Johnson says was an indication that the ruling was not a clear and obvious one.
"I know I'm looking at it from a position of bias but I don't think it's a penalty. I don't. I think [Duk] is expecting it; I think he's going down early and David Marshall doesn't really touch him with his hands.
"If anything, it's the momentum of Duk leaving his leg in and then Marshall coming across. But the ball's off the pitch by that point. In my opinion it wasn't a pen and it was frustrating because I could see it on the little screen.
"I haven't enjoyed VAR so far - even our goal came from poor officiating."
Marshall saved Bojan Miovski's first spot kick attempt but video replays forced a retake after they showed Marshall had moved off his line and while Hibs benefitted from a call later late in the second period, Aberdeen were well in control by then.
"We've been on the wrong side of it [VAR]. The delay and the timing [of the decisive penalty shout], especially when you've got momentum, is frustrating," Johnson added.
"Of course if you look at it enough times, you'll find a way to say it's a penalty. That's how I see it, particularly when it's slowed down, and it was ridiculous how long it took.
"That proved to me it wasn't clear and obvious and at that point the game's got to move on.
"I think there were nine extra minutes played in the first half. They've got to be quicker. I know it's new but they've got to be quicker and brighter.
"If it's not clear and obvious, then it's not a penalty but they want to play the game because they've got a new toy."