Lee Johnson names Hibs loans he would 'love to have back' as he outlines summer recruitment plans
Hibs manager Lee Johnson wants to inject greater quality into his squad but he says he could do without major upheaval, which is why Hibs are locked in a battle with rivals Aberdeen as they look to convince Manchester United's Will Fish to return for another loan spell.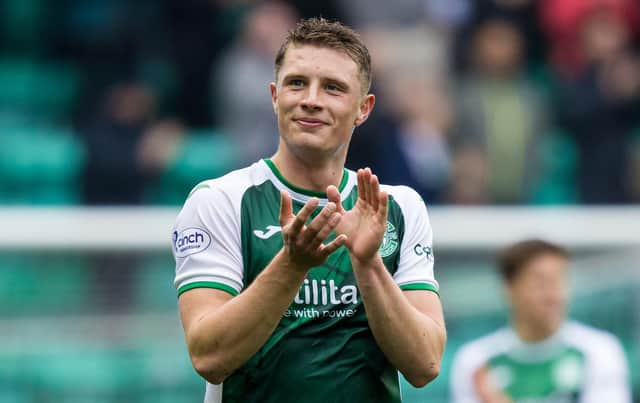 A way of getting better calibre players through the door at a fraction of their cost, the young defender is on the Leith club's wishlist, along with CJ Egan-Riley, as they attempt a swift rebuild ahead of the new campaign.
Heading into European competition early doors, with the first leg of their Europa Conference League qualifier on July 27, Johnson sees bringing back two players who performed well last term as one way to ensure his team hit the ground running.
Accepting Hibs' place in the food chain, he knows that one or two of his best players could move on, with a £2.2m bid for Kevin Nisbet already agreed and the ball firmly in the player's court. That means they will have money to recruit but mixing loan deals with permanent signings is a way to maximise their spend.
"A lot will be dictated by the loans. I'd love to have Will Fish and CJ Egan-Riley back, as an example," said Johnson.
"I'd like to keep the stability, trim the fat, and use the finances well to recruit quality. I'd rather lower the numbers and have higher quality, and then obviously if we've got good young players to supplement the squad and if one of them breaks through, then we're all laughing.
"I would much rather have a smaller squad because it means there are fewer problems for me! I like an environment where everybody feels like they have a carrot at the end of the week."
After a season where several of the big hames stars were sidelined with injury, including Martin Boyle, Nisbet, Kyle Magennis and Aiden McGeady the biggest thing will be keeping as many of the squad fit.
"When I walked through the door, we had seven on the injury bed and a lot of them were key players. A lot of the understudies or perceived understudies, were actually starting. You talk about having your money on the pitch but a lot of those players were injured. We had the depth, and that's fine if everyone's fit. But if they're not, that's where you need a bit of luck.
"Generally, when we've had that settled XI, we've performed well. I'd love to pick a team on day one and hardly have to change it until the end of the season and then build, and build, and build again. But clubs like Hibs have their place in the food chain so we have to wait, or we have to be calm, or we have to convince, or we have to pay more and all those things come into it to try to achieve these loans again.
"In an ideal world I'd love to keep this core strong and then add quality, not numeracy, in and around the key areas where we think we need additions but I think there will be a lot of interest in our players - the fringe players who perhaps haven't had as many minutes as they might have hoped, but also the stars."
Comments
 0 comments
Want to join the conversation? Please or to comment on this article.