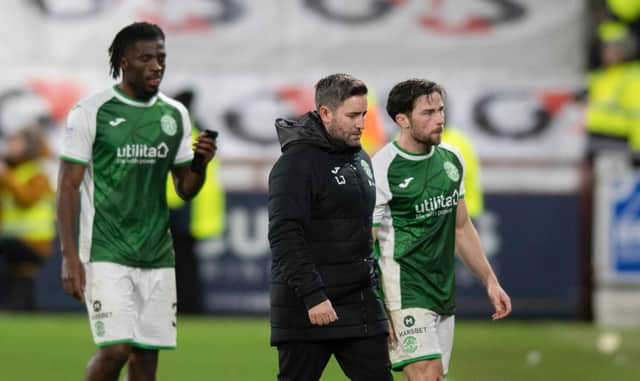 Johnston did not mince his words after Monday's 3-0 reverse at Tynecastle, stating he was "sick to death of mediocrity" and wanted to clear out the "deadwood" from his squad while also taking aim at the board over "poor historic decisions" in relation to Ryan Porteous' contract situation.
His stinging remarks have only fuelled speculation over his future at the club with Hibs having now lost nine of their last 11 Premiership fixtures to leave them sitting just four points ahead of the relegation play-off position.
However, Johnson is adamant that he retains the backing of his those under him – and above him – and remains confident that he can use his past experience to come through a difficult period.
"Any manager who's had 150 games has been through it once or twice over, never mind someone like me who's had about 500 games," he told Sky Sports. "The top managers throughout history have always had spells like that and have to come through it. I think the communication lines stay clear; the players are behind the management, the board are behind the management, and we all want this to work. The next opportunity to prove that is against Motherwell."
Johnson also explained his decision to stay out of the away dressing room following the final whistle at Tynecastle.
"I won't be the first manager not to have gone in the dressing room after a game for the greater good. Sometimes one-on-one conversations are good. I think the manager not being in a dressing room can sometimes be conducive to players being a bit more honest with each other and themselves. There are various ways and different techniques to improve, and we try to use a balance of those techniques. It's all for the greater good of the team, getting the next result, and ensuring that the confidence from the good elements of our performances remains."
The 41-year-old also urged supporters to "keep the faith" as he reiterated his belief that Hibs can be successful under him.
"To be manager of a great football club like Hibs is a privilege. What comes with that privilege is the pressures of people talking, outside noise, social media, the media itself, and that's understandable. I want our fanbase to enjoy watching their team and feel that we can be successful, which I fully believe we can, both this season and moving forwards. We're doing everything we can and I'd just ask people to keep the faith and trust in the process."