Lee Johnson hails star Hibs player who 'drives you up the wall' as St Mirren target Hearts response and Europe
Hibs boss Lee Johnson hailed the work of Elie Youan following his performance in the 2-1 win over St Mirren – but admitted the Frenchman can drive him up the wall.
The forward opened the scoring at Easter Road and earned a standing ovation from the home crowd for his impressive individual performance in a win which puts the team in a commanding position to finish at least fifth in the Premiership and possibly gain entry into Europe. The 24-year-old is currently on loan at the club who have an option to make the deal permanent.
"He did, and we expect that from our wingers," Johnson said, recognising Youan's work out of possession. "You've got to work hard. I'm pretty critical when they don't so when they do it's fantastic. We call it a ball thief when they nick it on the way back in. He's earned his rest over the weekend because of the physical effort he has put in, and that's what Elie has got to do.
"He can frustrate the life out of us at times, he drives you up the wall but he's also got that real threat about him and can peg a team back and he can run all day. He's got quite unique attributes so we just need to keep developing him. He's still young. If he put it all together we wouldn't have him. That's what we've got to try and do before we sell him!
"It's difficult for me to talk about his contract but we do have an option to buy. Every negotiation is different. Some are done in advance and then put in a drawer, and some still need to be done. Obviously that's not my bag, that's for the CEO to deal with."
'Team is still growing'
Johnson hailed his side's progression from earlier in the season as they held onto a 2-1 lead with St Mirren forcing the issue. The three points puts them just one behind rivals Hearts in the battle for fourth which guarantees European football.
"I think this team is still growing; it hasn't had that long together but there's a bit more experience in there - a bit more Scottish Premiership experience, and a bit more international experience. You learn to see out games like that and cope with the shape versus the shape, and organise and discuss in the game. That's something we struggled with at the start of the season."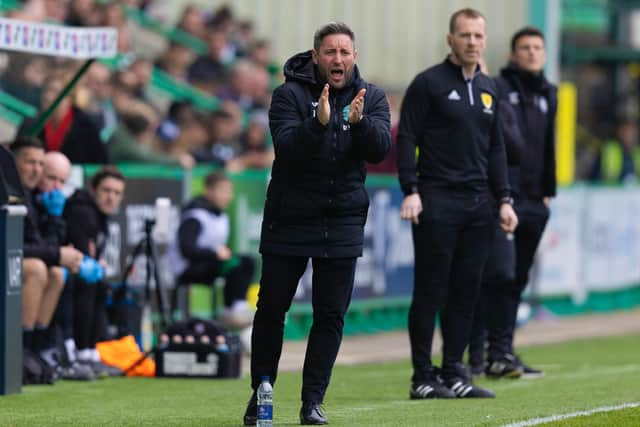 He added: "It's an important win because of that fifth place but also we're now chasing down the pack and everybody ahead of us."
St Mirren boss Stephen Robinson thought his side were worthy of a point at Easter Road after a start where they shot themselves in the foot with two individual errors. Despite the defeat, Europe remains the target.
"I don't think there are many teams who come to Easter Road and pin them in as much as we did," he said. "As a man it is difficult to ask for any more in that second half and the response I got gives us hope that we still have a chance for Europe. You can pull that back very quickly, there are 12 points still to play for. We've got Hearts at home next week and we've been very good."
Comments
 0 comments
Want to join the conversation? Please or to comment on this article.