Lee Johnson 'backtracks a little bit' on Hibs comments after being left pleased by James Jeggo decision
Hibs boss Lee Johnson says he has had cause to rethink his damning condemnation of the game's judicial system following the decision to downgrade James Jeggo's red card against St Johnstone to a yellow.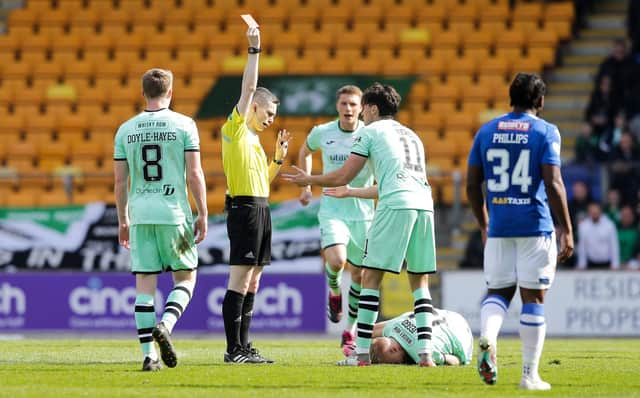 The club successfully appealed referee Craig Napier's decision, freeing up the Aussie midfielder to feature against St Mirren on Saturday when the Easter Road club kick off their post-split fixtures. Although furious with the initial decision, which he had deemed 'horrendous' adding that it had contributed to one of the worst refereeing performances he had witnessed as a player and coach, Johnson said that events since had restored some faith in a system he had described as broken.
"I was pleased [with the outcome of the appeal]," said the Hibs boss. "I was very vocal after that game and you have to give credit where it's due. The system clearly isn't broken, because justice has prevailed, if you like, so I want to backtrack a little bit on that. A lot of the stuff I say after games is emotive, but it is also because I want to help. Down in England, we put numerous seminars on for referees and invite them into training and let them train seven-a-sides and play run seven-a-sides and things like that."
That is aided by the fact that referees south of the border are on full-time contracts, something Johnson has long-advocated for in Scotland as he sees it as a way of upping standards and consistency levels and engendering greater respect following another season punctuated by controversial decisions and frustrations, which have been exacerbated further by VAR.
"All I want is the Scottish game, and Hibs, to be more celebrated and more successful, because with that comes greater exposure, more TV, more TV rights and we can get more players," added Johnson. "It's a great league. I've played in it and managed in it, and sometimes it's not so celebrated outside Scotland – and it should be. And the referees' association is a big part of that, and we want to make sure we do our best to help them."