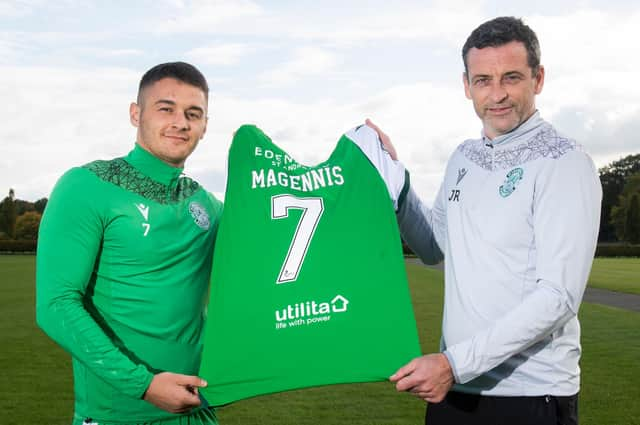 Hibs boss Jack Ross expected to play new signing Kyle Magennis against Brora Rangers tonight. Photo by Craig Foy/SNS Group
That was during a torrid time in the pair's previous life at St Mirren, when the Paisley club were struggling to safeguard their Championship status.
One was newly arrived from Alloa, charged with turning around the club's season and the other was a product of the Paisley academy, who wasn't even considered one of the stars of the youth ranks.
But, with nothing to lose and many of the elder statesmen failing to impress, Ross took a shine to the teenager's drive and box-to-box energy.
Gambling on him during a match at Easter Road, he threw him on at half-time. Having snapped him up on a five-year contract at Hibs, he can't wait to send him into action in Leith once more.
When they last linked up, they not only succeeded in staving off relegation to Scottish football's third tier, they built on that, turning St Mirren's fortunes on their head and winning the title the following year to earn the club promotion to the Premiership.
Those feats turned a spotlight on the manager who was soon lured to the Stadium of Light by Sunderland and then onto Hibs when things did not work out as planned in England.
Having joined him, there is no disguising the mutual admiration shown by Magennis and his gaffer.
How it all began
"He's an interesting one," explains Ross. "When I went to St Mirren, Kyle McAllister – who is back there now – was the one everyone believed would move on, and he went on and got his move to Derby. Allan McManus [then coach at St Mirren] liked Kyle but he wasn't regarded as being the great new hope for the club.
"I watched him play in a development match and thought he was really good. What he does that is different to a lot of young midfielders is he drives with the ball and carries the ball. A lot of young players pass the ball. I liked what I saw and I decided to involve him in training before he made his debut at Easter Road.
"He played a lot of games for me and he grew with us. I'm fond of him, he's a good player and different to a lot of other players. I've always felt those attributes would give him a really good future in the game."
Midfield coming together
Stepping out from McAllister's shadow long ago, the fact that St Mirren were so unhappy to see their 22-year-old local hero, who current Buddies manager Jim Goodwin had named as captain this term, move on illustrates his value to teams.
The manager made it clear that he did not want him sold, while the board issued a statement after the fact making it clear that they have offered an extended and enhanced deal, but with his current contract expiring in the summer and an improved bid lodged by the Capital side, they were finally able to reunite Ross with his young protege.
It looks likely to prove another very good bit of business as the Hibs jigsaw comes together. Looking for balance, consistency and improvement in his players and his side, Ross sees Magennis as the ideal foil for the defensive vision of summer signing Alex Gogic.
"We have worked hard to address the balance we needed by bringing Alex to the club, who fills a certain role, but there are a lot of similarities in the [other] midfielders. A lot of them are very comfortable in possession and Kyle is also comfortable in possession but, equally, he has that ability to run with the ball and carry us forward and he can do a little bit of everything.
"I think that box-to-box type midfielder was something we didn't have within the group so he is not just a good, young player but also, the attributes he brings, we didn't necessarily have within the group."
But with his former employers so keen to keep hold of him, knocking back two bids before finally caving, Magennis admits he was worried he may miss out.
"That's what I thought when they rejected the offer. I went in and saw the manager and Tony Fitzpatrick [St Mirren chief executive] after that. I had a conversation with them and said it was a good opportunity for me and I'd like to go but I wasn't going to fall out with anybody over it. I'm not that type of boy especially because I had been there for so long. I would never have said 'I'm not playing for you'.
"I had a good chat with them and the gaffer said it was a good opportunity but he didn't want me to go. But then, on Friday morning, I got a call saying they had agreed a fee."
A chat with Stephen McGinn
Following Ross, Steve Mallan, and Paul and Stephen McGinn east, it is the other McGinn sibling he more closely hopes to emulate. A similar style of player to the younger brother, John, he would be delighted if his career could follow a similar path to that of the Aston Villa star, who headed to Birmingham and into the international set-up via Paisley and Leith.
"I texted Stephen McGinn and he said this was a brilliant place to play. I spoke to Paul previously and he was buzzing too. John's the only one I never spoke to but hopefully I can do as well as he did here. He has progressed from here and I think that's what all young players should look to do. It's about going somewhere, doing the best they can and try to get as far in their career as possible. Al I can do is work my hardest and if the fans take to that then happy days."