Kevin van Veen reveals war of words with Hibs' David Marshall and says personal life issues got him down
Hibs captain David Marshall was the man who, quite literally, pushed Kevin van Veen on to score his Easter Road brace and leave the host side's top-six aspirations in the balance.
The Fir Park side had failed to pick up anything from their earlier two meetings with the Leith side but despite claiming he felt very off-colour for most of the match and praising his team-mates for carrying him through, the Dutchman's second-half set pieces separated the sides and he made sure to let the former Scotland goalkeeper know that he had also been an inspirational force behind him notching his 20th goal of the season.
The Hibs keeper had managed to get the better of the Motherwell striker early in the match when he rushed off his line to block a one-on-one chance but Van Veen exacted revenge when he converted a 54th-minute spot-kick. Although it was not his best effort, the Hibs captain allowed it to squirm over the line to put Stuart Kettlewell's men two up. Kevin Nisbet pulled one back for the home team but the man who has been linked with a potential move to China in recent days, had the final say after a run in with Marshall fired him up.
The pair had a coming together out on the touchline as Hibs tried to quash another attack and that was still in Van Veen's mind as he rocketed an 81st-minute free-kick beyond him to settle the match. "He bumped into my back on the side [of the pitch] and I'll face [up to] that. I thought: 'I will give you some back'," said Van Veen. "I'm not letting anyone run over me. No chance. So I bumped him back and he came to my face and started swearing at me. I thought: 'I know I'm going to score again. Watch me coming towards you.' So I just celebrated in front of him and I asked if he was alright after I put that free-kick in. Then I went to the fans. I like that type of stuff. He's very experienced and a very good keeper and I don't think he minds it either. We both played that game.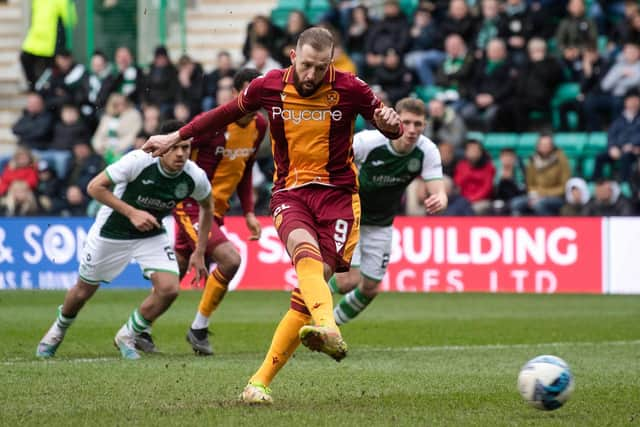 "I was a bit annoyed with the first half. I tried to put it through his legs but Marshall took it well and saved it. But it was great to get 20 goals. If I'm being a perfectionist I should maybe have scored one more and the penalty was not great. It was one of those days when I didn't feel great. I have a lot going on in my personal life and I felt lethargic and low on energy. It felt a bit like I was carrying a backpack today. It was actually embarrassing to take a penalty like that then take a free kick like I did. But hopefully I can keep it going."
Since Stuart Kettlewell was installed as manager, he has the team moving in the right direction, and, with 13 points from 18 in their past six matches, Van Veen is predicting a strong finish to the season. "There are eight games left so I am hitting another 10 goals! I am that confident. You need to believe in yourself. Hopefully I score as many as possible."