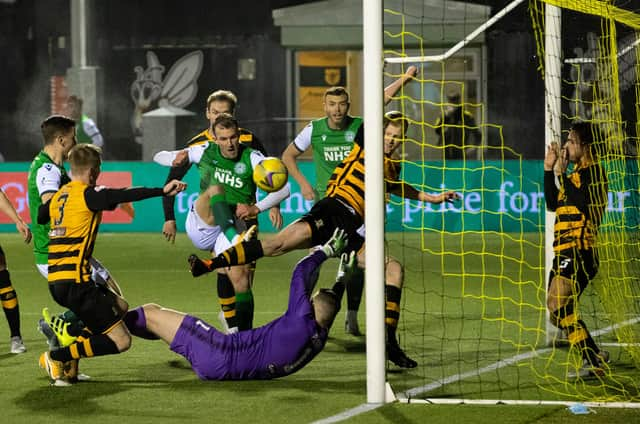 Christian Doidge netted twice for Hibs at Alloa.
Instead, his honest naivety could have proved costly for Hibs against an Alloa side who looked more determined, energetic and incisive for long periods of the game.
Played through by a searching Ryan Porteous long-ball midway through the first half, the youngster charged on, one-on-one with the Alloa keeper Neil Parry. Attempting to round him and finish, the Premiership player could have gone down when Parry's outstretched arm failed to rob him of possession but did cause him to stumble.
Most would have gone down and few could have blamed him, given the fact there was contact. Instead he regained his balance but, pushed too wide, the attack came to nothing.
Hibs ultimately prevailed 2-1 in this Betfred Cup quarter-final tie, but it was a big moment.
If that spurned opportunity was frustrating for a side who had struggled to find a way through or round the back of their Championship hosts, soon after Alloa broke the deadlock.
Nine minutes from half time, Stefan Scougall fired in a cross and although Kevin Cawley's original effort was blocked by Ofr Marciano, it bounced back off Hbs captain Paul Hanlon and past the keeper.
If there was an element of luck in that, it would ultimately be cancelled out.
Fielding a virtually unchanged side from Saturday's comfortable demolition of Hamilton, the fluidity of that Hibs performance was missing as they came up against an Alloa brick wall.
The missing ingredient was Kevin Nisbet, who likes to operate in that area just in behind frontman Christian Doidge. Even when playing as a two-man attack, he is adept at coming deep, linking up play, and his industry and ability to get things moving there, with a wee layoff, a deft flick, before powering up to drag defenders away or provide a target for the final ball was an notable loss.
In his absence, Hibs struggled to find anyone who could do all those things and therefore found themselves limited when it came to trying to burst through the well-drilled home backline.
But if Gullan was left to ponder his honesty, it would not be allowed to haunt him thanks to a couple of second-half substitutions in the shape of Steve Mallan and Kyle Magennis, who gave Hibs greater impetus and some fine fortune in front of goal.
The equaliser came in the 62nd minute, when Mallan's corner was met by Hanlon. His header was blocked but in the goalmouth stramash, with bodies everywhere, Doidge lashed his shot off the bar and over the line.
Magennis almost added a second just two minutes later, but defender Nicky Jamieson blocked.
However, with Hibs pressing for the winner, they eventually found it with ten minutes remaining. There was more lovely work from Mallan, who found the space to swing in a sweet delivery, picking out Doidge and he headed off the unfortunate Jamieson and into the net.
There was a scare late on when Hanlon's pass back was closed down fast and Marciano's clearance skelped off Cameron O'Donnell. It went wide and Hibs breathed a sigh of relief as they now look ahead to another semi-final.