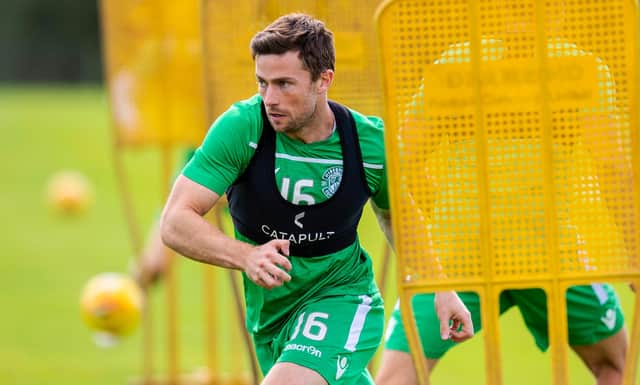 Lewis Stevenson: leader and mentor
Hibs head coach Jack Ross has admitted he can't know what his players are doing at all hours of the day – but insists he trusts his squad to use common sense when it comes to coronavirus prevention measures.
The Easter Road boss was speaking just hours after Aberdeen's Premiership trip to St Johnstone on Saturday lunchtime was cancelled as a result of two Dons players testing positive and other team-members having to self-isolate.
"The only times I know exactly what my players are doing is when they're in the confines of the training ground," said Ross.
"Their willingness to conform to the guidelines has been good, right from the first day of pre-season, which was obviously very different to where we are now.
"They've done it within our own stadium and within away stadiums, and traveling to games as well. That's all been positive.
"I can't control what they do every single minute of every day but equally I've got a group that's sensible and I've got good leadership within that changing room as well. You try and educate and guide but that's all you can do then hope they take that information on board. I believe there's a group in there that does that."
One of those leaders is likely to be defensive stalwart Lewis Stevenson. The 32-year-old came off the bench last week against Kilmarnock to help Hibs secure the three points but Ross was delighted with Josh Doig, who looks like being the long-term replacement for the left-back.
The 18-year-old started at left wingback and reverted to full-back before making way for his mentor midway through the second half, and he impressed the coaching staff.
"I think he'll have grown in confidence and belief from it, and will feel like an even bigger part of the group now that he's made his competitive debut for us," Ross said.
"I was really pleased with him and for a young man to feel he's very much now part of the first-team squad is encouraging, not just for him but hopefully for the others in the academy as well."
But Stevenson, who could pass the 500-appearance mark for the Capital club this season, still has a key role to play both on and off the pitch, according to Ross, particularly with his protege Doig.
He added: "Lewis is an unbelievably good guy, For a player who's achieved what he has at this club, there's nothing that suggests that he has that swagger about him.
"He's won both domestic cup competitions with the club and achieved promotions, his temperament is brilliant, and his contribution when he came on the park last week is just how he is.
"To bang out that number of games is remarkable. He's been here that long that I played against him a lot before I retired.
"He's a brilliant help for me off the pitch with Josh but I don't want to take away from the contribution he can still make on the pitch.
"By his own admission he was a bit up and down in pre-season, so I think the fact he was able to come on and play so well was good for him.
"I've had that conversation with him, he's still a big part of what we're doing here, he'll play a big part this season and he'll be a big help for Josh as well."