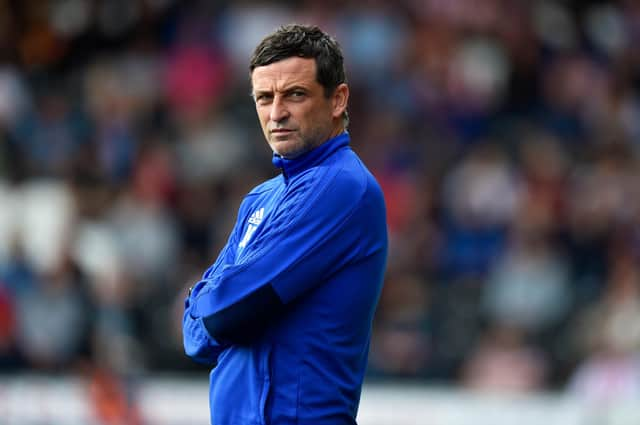 Jack Ross was in charge of Sunderland for just over a season.
Hibs boss Jack Ross has finally made it to the end of Sunderland Til I Die – but confessed that he has found fellow Netflix series Money Heist far more enjoyable than the football fly-on-the-wall docu series.
But that has more to do with the lack of personal torment that comes with watching the latter than any residual bitterness after he was sacked as Black Cats gaffer in October.
"It took me a wee while but I have watched it all," Ross said. "The second series I did it in wee bits but I finished watching the last couple just last week.
"It was different for me because I lived it so I probably don't need to watch it. I know what it was like and I was reliving a couple of sore days in the last two episodes."
Ross was at the helm as Sunderland made their way to the 2019 Checkatrade Trophy Final but the series brought back the anguish of losing a penalty shoot-out to Portsmouth following their 2-2 draw at Wembley.
He had hoped for better when he returned to the national stadium for the League One play-off final but, once again, his men came up just short, going down to Charlton after losing a last gasp goal.
He described it as gut-wrenching at the time and looking back only opened up old wounds, he said.
"In terms of the arena we were playing in and everything that went with it, that was incredible," said Ross. "They were incredible occasions but to lose out on such fine margins, a penalty shoot-out and an injury-time goal, that was pretty sore.
"But I did work my way through them. Although, we have been more interested in Money Heist, to be honest. It was less painful to watch.
"What the programme did do is highlight just how big the club is. I don't think everybody appreciates that it is such a huge club and it is very intense. But it was brilliant nonetheless.
"I have some fantastic memories. In 2016 I was still Alloa manager and if you had told me then that I would be walking out at Wembley twice as a manager, I would have been happy, so they were brilliant experiences. I will properly reflect on them in time, but looking back now - even briefly - they were a big deal. I just would have been nice if they had ended differently."