'I'm sick to death' - Kilmarnock boss Derek McInnes lets rip at VAR after red card intervention in Hibs loss
Kilmarnock boss Derek McInnes let rip at VAR and the way it is being used by referees after he saw Kyle Vassell shown a red card after an intervention in the 2-0 loss at Hibs.
The Killie striker was shown a yellow card by John Beaton following a high challenge on defender Marijan Cabraja. It was upgraded to a red card after the official was called over to view the incident on the VAR monitor. It left the Ayrshire side chasing a two-goal deficit for more than 20 minutes. McInnes confirmed he will appeal the decision but could be without a key forward for a crucial fixture in the relegation battle with Motherwell next up at Rugby Park.
"We were all here," he said. "There's no sense that it was a bad challenge. You can sniff a red card, there's a sense that something's happened which makes you feel a bit uneasy. John [Beaton] deals with it at the time. He's standing right next to it. We move on. I didn't even think it was a yellow. Kyle's tried to pull out. I think the Hibs player's went forward into him. Kyle's got his eyes on the ball the whole time. He tries to keep his foot still, there's no forward movement.
"They're in a sanitised room over 50 miles away watching that over and over again, telling the referee you need to have a look at that, that's a red card. The game's gone mad. That's not a red card. I'm sick to death of this VAR. It was our turn this week, there will likely be someone else in Scotland today who has suffered as well. An experienced referee dealt with the incident. Yet it goes all the way to them and they put pressure on him to look at it differently. It's no a red card.
"You can sense the anger and frustration from everybody from a Kilmarnock point of view. But I think there was real surprise and shock from a Hibs perspective. There was no running around from players going to the referee looking for a red card. You know a red card offence. You can sniff it at the game. It's absolutely ridiculous."
'It's somebody every week'
Asked what the answer to VAR and the continued issues, McInnes believes the officials need to get better and show a greater understanding of on-field situations.
"VAR technology is there but it is still human opinion," he said. "It is still their perspective on what it is. I don't know, we just need to be better at making the key decisions. That is a key decision. I think the referee dealt with it, move. There was no one looking for anything else and neither they should have been.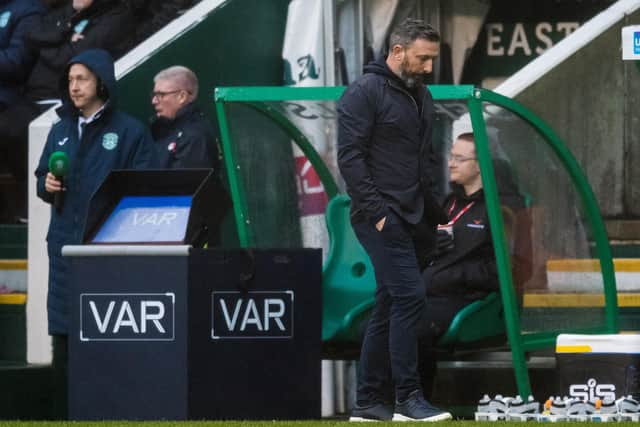 "I was frustrated at the fourth official that he's given a yellow. I'd take the yellow now. I feel for the boy and I feel it is our turn this week, Kilmarnock, and we suffer for it. It wasn't why we lost the game but it is such a poor lack of judgement from the people in the VAR room. It's somebody every week."
Comments
 0 comments
Want to join the conversation? Please or to comment on this article.