How Lee Johnson plans to use City Group contacts to benefit Hibs with loan limit set to increase
Hibs need to safeguard their identity but they also have to get better at maximising their potential, according to manager Lee Johnson.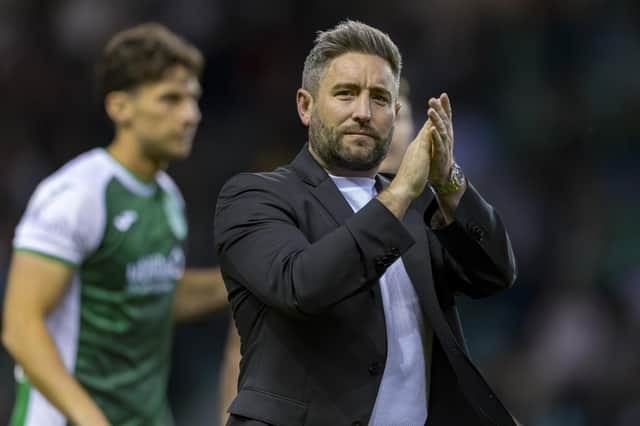 The summer transfer window officially opens on Wednesday and the Easter Road boss is aware that work will have to be done to strengthen the squad as the Leith men look to make an impression in Europe while also enhancing their position domestically.
That is where contacts come into play, with the City Football Group a useful asset.
A multi-billion pound company, with a varied portfolio of players and football clubs, including Manchester City, Johnson has developed a useful relationship throughout his years in management and with the number of loan players being extended to seven players this term, there is scope to tap into that but, as tempting as it is, he says there has to be a balance between the transitory element of the squad and players who are there for the long haul and act as a human anchor.
"The City Group is full of top-quality practitioners who get a lot more right than wrong," said Johnson. "I'm just grateful that we're in their good books. But we are Hibs. We're never going to lose our identity. It's just supplementing what we've already got and if you can scratch someone's back and they scratch yours then it works for everybody: we increase the value of their player or get them into Manchester City's first team and we probably pay only 30 per cent of the actual wage that the player's on so that helps us stretch our budget.
"It's actually moved to seven loans next year, which is quite interesting. Somebody will maximise that but there's a risk in terms of that identity piece. You can't do it all from the same club but with multi-club groups it could be two from [other City Group clubs like] Troyes, two from Manchester City, two from New York City - that's possible.
"We won't do that, but it is a factor in trying to find the right balance between quality and resource.
"Loan players come through the door and we show them the history of the club and this is a club slapbang in the middle of the city and you feel immersed in it. You're bumping into fans all the time and I love that bit about this football club."
But there has to be a strong, cohesive plan, with departments coming together to build the most effective squad.
"Inevitably you want to do the best you possibly can," said Johnson, although he acknowledges that the target depends on the size of each club's resources.
"Look at how well Livingston have done. I don't know what their budget is but it's one of the lowest. It's one man making the decisions, one man driving the football club. But they've done a fantastic job. Could you say the same about Hibs this year? Maybe not, based on the fact Livingston are about three or four points off us after a bad run in the last bit but what a fantastic job they've done there.
"I look down to England, and my mate Darren Way had the worst budget in the English Football League for three seasons and kept Yeovil up, and that for him is success."
Comments
 0 comments
Want to join the conversation? Please or to comment on this article.