How Kevin Nisbet has become a complete Hibs striker as Hearts star calls for 'tough men and characters'
A scar to the left of his knee. Another on the knee itself. All Kevin Nisbet has to do is look down to his left leg for a reminder of where he has come from and what he has endured across the past year. An unwanted souvenir of an ACL injury which saw him miss more than 30 games.
It is not uncommon for players, on their return, to take another 30 games to get back up and running. To find their rhythm, their flow and their confidence once more. Not the 26-year-old. His scoring record is phenomenal. Thirteen league games, ten goals. The latest may well have been the most special. Not just since his return but perhaps in a Hibs jersey. A derby winner. The solitary goal in a 1-0 win which was more dominant than the scoreline suggests. The striker certainly enjoyed it.
When he wandered away from Nathaniel Atkinson to latch onto Paul Hanlon's header back across goal, thumping an effort past Zander Clark, he made a beeline for the benches. To celebrate with his own and to give a bit to the visitors. Nisbet was on a personal mission to avenge the demons of a nine-game winless run in the fixture, especially the last game, a 3-0 loss in the Scottish Cup. It was a result which the player admitted left him "embarrassed".
"All the hard work, the 9-5 every single day, days like Saturday make it worth it," he said in the press room afterwards with the soundtrack of a boisterous HIbs support enjoying themselves, and rightly so, on the other side of the wall in one of the Easter Road bars.
'Blessing in disguise'
That hard work is evident in the way Nisbet plays. In the way he carries himself. And the way he is now built. As backwards as sounds, he is a more complete striker FOR his injury. It's something the player admitted himself. He's stronger – a more physical, powerful presence. That can be seen in the way he acts as a focal point for Hibs. The way he did on Saturday, bullying the Hearts defence, in particular Kye Rowles. Twice the Australian bounced off him as if he had encountered some sort of force field.
"I was in rehab after about three or four days and didn't have a summer holiday," he said. "It was a hard time but I had to use it to improve myself in the areas I was lacking. It's probably a blessing in disguise for me if I'm honest. I think before I wasn't as strong, wasn't as big, wasn't as powerful or as quick. I think that nine months I absolutely battered the gym and it's probably stood me in good stead for the rest of my career."
That's the long-term. As for the short-term, he is the man who can fire Hibs further up the table. A result like Saturday can help, act as a springboard because even without Martin Boyle and Rocky Bushiri, Kyle Magennis and Aiden McGeady, Lee Johnson has a squad which has plenty of attacking assets but it is Nisbet who brings it all together. It is Nisbet who can secure the top six spot and maybe, just maybe, finish in third which has looked far from realistic in different stages during the season.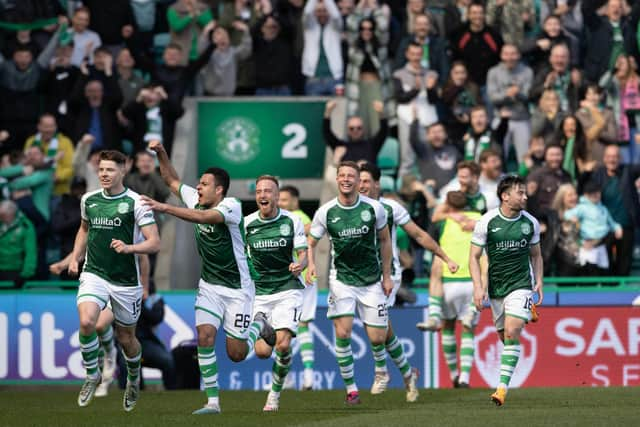 "I think right now it's about securing the top six," he said. "About finishing as high as possible. We would love to finish third but it's about getting top six secured, dusting ourselves down after the split and finishing as high as possible. It would be massive if we could get third.
"I think you are seeing a team that's really good together. It obviously took a while with injuries and so on. But you are seeing a team that can play on the front foot and go and win games. The pleasing thing for me was the clean sheet. If we keep clean sheets we know we can score goals and win games."
And overtaking Hearts in the process? "That was all talk, wasn't it," Nisbet noted. "Halfway through the season people were saying they'd finish third, but they could potentially finish a lot lower now."
'Tough men and characters'
Hearts are currently on their worst run since the 2007/08 season when the team were a chaotic mess with no leadership in the dugout. They have an ideal fixture coming up next, hosting bottom-of-the-table Ross County. But the concerning aspect has been the lack of reaction. A lack of reaction after the defeat to Aberdeen. After the defeat to Kilmarnock. And after the defeat to St Mirren in a derby following a week where manager Robbie Neilson was replaced with Steven Naismith and Robert Snodgrass was told he was unlikely to feature for the club again.
"Probably not what people want to hear but it's a great dressing room, it really is," midfielder Andy Halliday said. "It's one I've really enjoyed being part of over the last few years. It's probably lacking a bit of confidence just now. We've all been in dressing rooms when that's happened. But it's about stepping up and being counted. It's about doing more of the same in terms of coming in and taking on more of the information Naisy's put in front of us to try and turn it into results.
"It's time for tough men and tough characters. I don't think we had a reaction to poor results over the last few games. I thought there was a reaction there today but quality was lacking and I don't think we did enough to win the game. We've shown before that we can turn out on a result. I know the fans are going to hate me saying it because we've not won in a number of weeks but that's the reality. I think we've got the characters and determination in the dressing room to do it."
Comments
 0 comments
Want to join the conversation? Please or to comment on this article.