It is a result that moved the Leith side to within three points of fourth spot in the cinch Premiership and highlighted the difference a clinical finisher can make in this league
But it left Motherwell floundering. The Fir Park side have won just one home league match – back in August – and have registered just two wins in 16 Premiership games. While they did claw back two goals to make the outcome tighter than it might have been as they struggled with so many of the basics they struggled with the jitters, especially after Nisbet opened the scoring in the 16th minute.
Both teams went into the match acutely aware of what was at stake, but Hibs had the greater quality to lean on, as Johnson learned from last weekend, when he waited too long to unleash Aiden McGeady and Kyle Magennis. This time he loaded his attack, giving the Irishman his first Scottish top-flight start in over 12 years.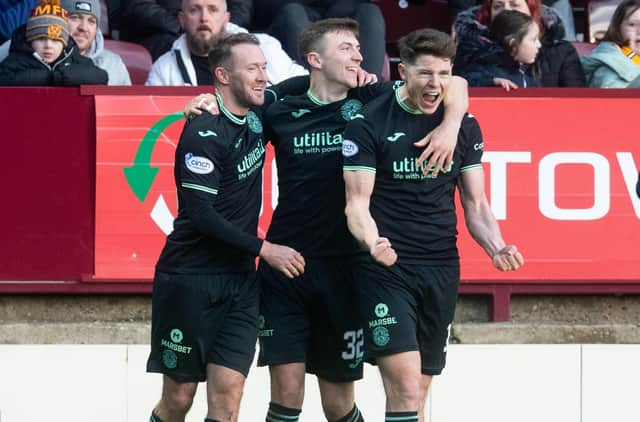 Just like Nisbet, the extra patience shown by the Hibs boss paid off. Rather than throw the 36-year-old in prematurely, he has given him time to get back to his best, which is why both his striker and winger are back, looking quicker, sharper and more dangerous than they were immediately before they each picked up their knee injuries.
NIsbet's hat-trick means he has now netted five goals in his first five games back and is in the kind of clinical form that caught Scotland boss Steve Clarke's attention, while McGeady showed the guile, drive and turn of pace that sends shivers down the spine of opposition defenders and saw Motherwell put two and even three men on his to curtail his progress or passes into the box.
Add to that the forward-thinking Magennis and the blossoming talent of Frenchman Elie Youhan, whose supply is now becoming consistent enough for those around to rely on.
Hibs also had Ryan Porteous back. The defender, who rivals fans love to hate, again demonstrated his drive and his flexibility, as he started at left centre-back before being moved into a defensive midfield position later on as Hibs tried to see out the game and protect the advantage gifted them by Nisbet.
It was McGeady who supplied the assist for the opener. Showing his ability on the left, he played the ball into Nisbet. Despite having Motherwell men around him, they were too inert and the international forward had the touch and the composure to move it from his right foot to his left, before slamming his shot past Liam Kelly.
The second, which came in the 52nd was instigated by Porteous, who took a quick free-kick and pinged it forward to Youan. With Nisbet making the run, the Frenchman squared the ball to give him a tap in from just a few yards out.
But for all Hibs had taken control of the scoreline and Motherwell were struggling to shrug off their own fans' disquiet, the Leith side still have work to do to transform themselves into an outfit that can hit the front then simply cruise to victory.
Admittedly, in a league as tight as this year's Premiership, not many clubs have that luxury and even after Motherwell switched things about, sending Stuart McKinstry on in place of the less effective Connor Shields, with the substitute pulling one back in the 59th minute, Hibs had the composure to quash the rising nerves and go again.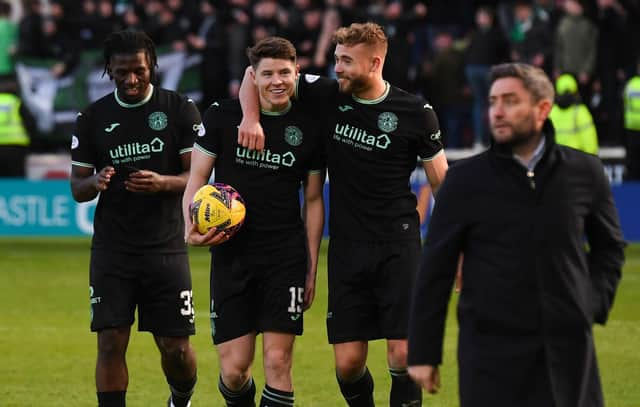 There were reshuffles in the Hibs pack. Josh Campbell, operating as stand-in right back, had been caught out for Motherwell's goal and Johnson acted to send Marijan Cabraja on at left back and move Lewis Stevenson to the right, advancing Campbell. He also introduced Paul Hanlon, with Porteous swapping to midfield,
And, when Nisbet's third goal came along, both Porteous, and Campbell were involved.
The Scotland defender, who is still weighing up his next move, with his contract up in the summer, set Campbell free down the right flank and he found Nisbet with his cross, allowing the in-form 25-year-old to grab what turned out to be the winning goal as Motherwell had one more goal up their sleeve.
Looking far from confident for long periods, they still appear to have the will to battle and in stoppage time Ross Tierney took them back within one goal of a draw. It provided greater trepidation than Hibs would have liked.
But the win was all that mattered. The manner in which they are able to deliver all three points is still a work in progress and will be tested again against Dundee United - who remain in the play-off spot, behind Motherwell on goal difference - next weekend.
There were definite signs of improvement against the Fir Park side but finding the right balance and better back up on the bench, will be the focus of transfer outs and ins this month, while Porteous' immediate future remains an issue.
The attack looks stronger but finding the right combination of physical clout and an ability to play through the midfield, while also having as solid a backline as possible, will be tougher without the academy graduate.
But, at least the pressure to make the manager one of those shown the door has been eased and, if this performance counts for anything, the evidence is that big players at the club have got his back and are willing to back up words with deeds.