Hibs wary of cost of Hearts' legal action but insist they will survive
Leeann Dempster says she has no regrets over way club voted on SPFL resolutions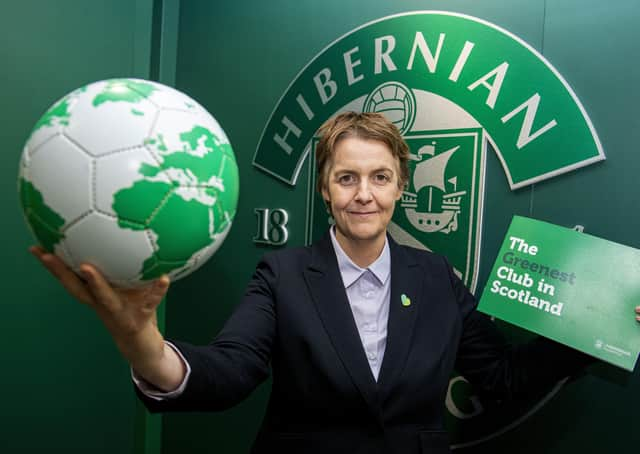 Hibernian chief executive Leeann Dempster. Picture: Bill Murray/SNS
Hibernian's Leeann Dempster has moved to quash online rumours that the club could be about to go bust but admitted that it "would cause some concern" if the outcome of the ongoing legal dispute between Hearts, Partick Thistle and the SPFL resulted in the relegated clubs being awarded £10 million in compensation.
But, refusing to add to the acrimony that has engulfed the game, the Easter Road chief executive distanced Hibs from alleged calls for the two rebel clubs to be expelled from the senior game over their court action.
"Those words have never even been uttered [by Hibs' hierarchy] and that outcome wouldn't even be a discussion at this club. That is so far removed from any reality I would recognise," Dempster stated.
"Without labouring it, there is currently no mandate from any league in Scotland wanting league reconstruction at this time, particularly at this time, and the outcome of that is we now have the legal challenge from Hearts and Partick Thistle.
"We have to respect that position and deal with it as best we all can. It is not 40 clubs against two – all clubs need to deal with this as best they can until that comes to a resolution."
Dempster, who also rubbished a story linking her with a switch to the Tynecastle club, said she was comfortable with how Hibs had voted on recent SPFL resolutions.
"I don't have regrets because I try not to live my life with 20-20 hindsight," she said. "You have to deal with things and make the best judgments and deal with things at the time.
"But, what we have just now is clubs in dispute with the league and other clubs and that is damaging, never mind the cash. If there was a large award made, it can only come from one place and that would be the central distribution pot and that is already tight so that would cause some concern."
The Leith club also took a financial hit when the league was called and the points-per-game method of deciding standings saw them drop a place to seventh.
Last week they conceded that it is now necessary, despite agreeing salary deferrals in April, to impose wage cuts and redundancies as they strive to pull themselves through the ongoing Covid-19 crisis.
However, that does not mean the club is teetering on the brink, she insisted.
"Clubs, and not just us, have an uncanny ability to survive, let's be honest," said Dempster. "We have been around for 145 years and we will still be around after this. I know there is a rumour, about us going bust, but not at all.
"These are difficult times and we have had to take difficult steps, difficult decisions but that is the same for everybody.
"But football clubs are part of the community. What else evokes the same passion in Scotland? Very few things matter that way, other than family, and this is why clubs need to get back out there playing again."
As things stand, the league fixture list will not include any Edinburgh derbies.
While those games are money generators for both clubs and could have helped minimise Hibs' losses, Dempster revealed those calculations were never part of the equation when casting votes on ending the league campaign or blocking reconstruction.
"That was not a consideration for us. Honestly, it wasn't," she said. "This isn't about who else is in the league. It is to do with the fact that football has been materially affected, as every business has, by Covid.
"Those [financial] issues are not linked specifically to who is in the league. Those issues are related to the fact that the game worldwide has changed immeasurably and we are not able to generate income the way we used to. That is irrespective of who is in the league with us.
"We are not able to sweat the assets the way we did before and unfortunately the costs are still running at the level they were before Covid hit. So, any fair-minded person understands that you have to make adjustments and you need to correct that in a way that protects the club."
The club have already identified areas of their operation where savings can be made, but they will not make decisions on jobs or the required cuts in areas such as coaching and staffing at academy level until the end of the 30-day consultation period.
Want to join the conversation? Please or to comment on this article.