Hibs still drawing up recruitment plans despite football shutdown
But the club's scouting work goes online during coronavirus crisis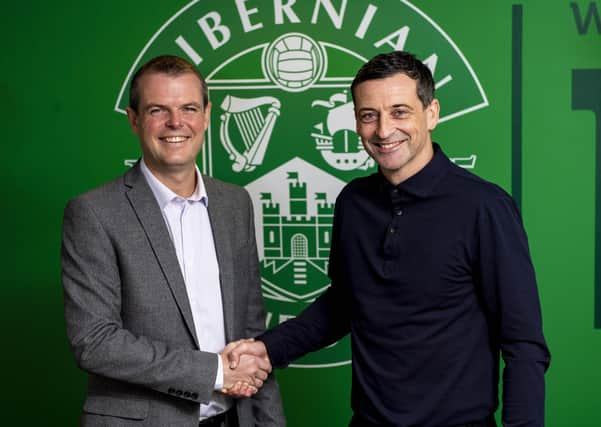 Hibs are continuing to plan thoroughly for the transfer window, whenever it arrives.
Football clubs across the world have been put in a difficult position when it comes to preparing for next season due to the uncertainty presented by the coronavirus pandemic.
Within the SPFL, there is still no clear plan as to what happens next, whether the current campaign is played to a close and if next season will be altered. Add in the complexities of players' contracts finishing in May plus clubs being unsure of budgets and it makes planning ahead problematic.
Hibs' sporting director Graeme Mathie has revealed work is still ongoing with regards to the club's plans for next season but it is unlikely movement on that front will happen anytime soon.
He said: "The biggest 
challenge is that this is a time when a lot of agents are phoning, asking 'what are you needing? How much money have you got to spend?' These are the questions you don't want because you don't know when the window is going to be open, you don't know when the season is finishing. There are so many unknowns.
"I think it is the case in recruitment all the time, you need to try to plan as best you can for as many eventualities as you can.
"We've got an idea of what we wanted the squad to look like for next year so we are working hard to fulfil those criteria, and that's still what we're doing but the bit you can't do is sign players on pre-contracts and make offers because you just don't know when we'll be playing again."
He added: "You can do all the planning and all the work but I suppose you just can't get to the point of making decisions and offers just quite yet."
The club have had to adapt to the current situation with no games to send their scouts to to analyse players. The focus has moved online. Potential signings are still being watched closely, with shortlists drawn up for head coach Jack Ross and his assistant Graham Potter.
"We would have put more emphasis on getting guys out to cover games live so obviously we can't do that now," Mathie said. "Mike Meechan, our senior scout, has never been in front of his laptop as much in his life. He's been doing a lot more video scouting and various things like that. We've had to change the way we do things.
"Craig Scates, my colleague in recruitment, has really taken the lead on that. I've been pulled into a number of different things.
"He's been pulling together the list of players we've been watching and highlighting previously. Getting a lot of clips together and links for some of their games and putting it around a number of the other scouts to watch and continue to put towards Jack and John Potter. That work is still ongoing."
As sporting director, Mathie has packed plenty
into his new role since he was announced as George Craig's replacement in 
October, stepping up from head of player identification and recruitment.
Since his appointment was confirmed he was involved in bringing in Ross as Paul Heckingbottom's replacement, organising the club's warm-weather training camp in Spain, the January transfer window and behind-the-scenes work with chairman Ron Gordon prior to the coronavirus outbreak.
"I keep having a laugh with George Craig, I still phone him very regularly", Mathie said. "I phoned him two Fridays ago and said 'you must have seen this coming! Jumped ship at the right time and left me to deal 
with it'.
"It is an interesting period. I felt myself coming into this new role realising that everybody in football clubs all over the country work incredibly hard and all your time is taken up by doing the tasks you have got.
"I know that sounds really obvious but what you probably don't afford yourself is a bit of time to take a step back and plan stuff.
"This has given us that opportunity so you are getting a whole influx of ideas from people about how they would like to make things better. I think that will be beneficial when we start again."
Comments
 0 comments
Want to join the conversation? Please or to comment on this article.