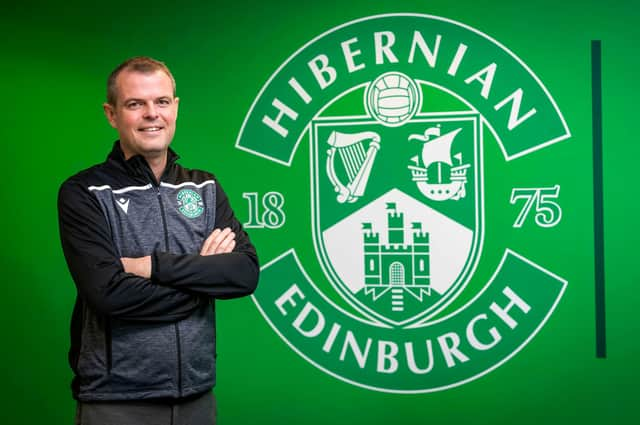 "We are planning now and Ron [Gordon, club chairman] is backing us to do business if we want to do so. But, I don't think it will be wholesale changes, maybe a couple of players in key positions who will help improve the squad and help us kick on for the second half of the season."
Describing the winter window as "challenging" and admitting the loan deals tend to be more likely at this time of the season, he said there was also an emphasis on tying up pivotal members of the current squad on extended deals over the coming weeks to prevent other clubs moving in to snap them up on free contracts.
Midfielder Joe Newell and goalkeeper Ofir Marciano both fall into that 'urgent business' category. But they aren't the only ones.
"Lewis Stevenson is also out of contract at the end of the season and there are a few of the younger ones that we need to make decisions on."
It signals a welcome return to some sort of normality.
Turning the clock back a year, former head of recruitment Mathie was new to the role of sporting director and one of his first tasks was to help appoint manager Jack Ross. His second was to oversee the squad's winter training camp.
While he remains delighted with the outcome of the first task, a hiccup in the execution of his second proved that while things may not always go to plan, people are usually willing to pull together to overcome difficulties.
"Literally the first time I really saw the players was at Edinburgh Airport and I was getting dogs' abuse because the bus that was supposed to take them from the hotel to the airport broke down. Instead, they arrived in a variety of taxis and cars and Scotty Allan wasn't shy in telling me that this would never have happened on [former Director of Football] George Craig's watch!"
But in a strange and challenging year, that tiny glitch barely registers now.
As well as the opportunity to discuss shared visions and the necessary budget to achieve them, there was just enough time for the 2020 January transfer window and a couple of months of action before the mass outbreak of coronavirus prompted a lockdown and ensured the ensuing year would be one like no other.
The months were packed full of zoom calls, difficult negotiations, steep learning curves, uncertainty, uncomfortable conversations and personal growth. But, Mathie says that while the club is "still not quite out of the woods", and he laments the need for some tough measures, including redundancies, there is a sense of pride in how staff and players have rallied round to not only help the club through the crisis but ensure that on-the-field ambitions were not derailed.
"There were some really tough decisions that had to be made and I am not shying away from this part of the conversation. We lost a lot of really good people, some who had been part of the club for many years. That was not easy because we were very proud of the people and the structure we had built.
"We had to ask a lot of people to do a lot more than they would normally have to do and every single one has stepped up and helped the club get through a really tough time. None more so than Jack and his staff and the players."
The manager was hit with budget cuts, had to tackle the new season with a smaller backroom staff and a leaner squad, and like his players was asked to agree to wage deferrals.
"I asked the player group to make certain concessions, wage deferrals and for their bonuses to be paid in a different way and those conversations aren't easy. I know there's a perception that footballers are earning an over the average wage and can afford to give up some money but everybody spends money depending on their income. But every single player said they wanted to help the club and I genuinely couldn't speak highly enough of the group that we've got.
"David Gray was central to that. He led those conversations and me and him had some difficult negotiations. I had one conversation with him asking for players to give up bonuses and before he left the office I said: 'David, I'm going to tell you, the club is trying to spend money on a transfer fee for a player. I'm not going to hide it from you and try to push this through two days before we do something else'. I felt it was important to let them know what we were doing and why and how it was going to help in the grand scheme.
"He could have said, 'Look, Graeme, if that's what you are going to do, I'm not going to ask the players to help' but, to be fair to David and the players they absolutely understood the context and I hope they appreciated that nothing was hidden from them."
Instead of causing a divide, the players, coaches and staff have shown a togetherness as they fought their way through the crisis and that bond has helped them on the pitch, where the team spirit has taken them to the higher echelons of the Premiership and towards the latter stages of another cup competition.
And now, they can look ahead with purpose.
"Without doubt it has been a really challenging year in so many ways but, on reflection, it has been a pretty good year for me personally in terms of things I have learned and things I can improve on going forward. That is what we all want, to keep improving."
A message from the Editor:
Thank you for reading this article. We're more reliant on your support than ever as the shift in consumer habits brought about by coronavirus impacts our advertisers.
If you haven't already, please consider supporting our trusted, fact-checked journalism by taking out a digital subscription.