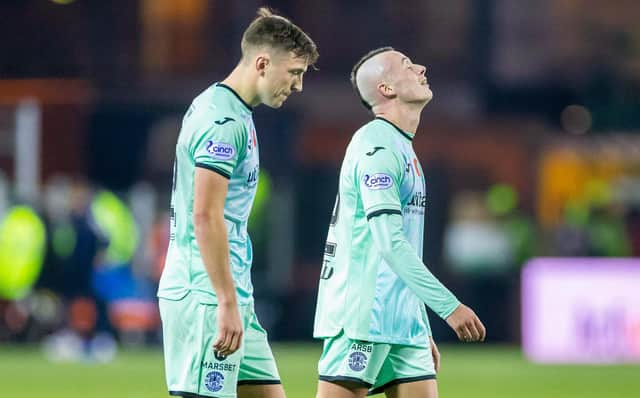 KILMARNOCK, SCOTLAND - NOVEMBER 12: Hibs' Josh Campbell (L) and Harry McKirdy look dejected at full time after the loss at Kilmarnock,
Would Kevin Nisbet have made a difference to Hibs these last few weeks? The striker has not played since February after rupturing his anterior cruciate ligament in a game against Celtic. Manager Lee Johnson admitted that he was "angry" at himself for not gambling on the fitness of the player in recent weeks as Hibs have been stuck in a desperate run of form that has yielded just three points from a possible 21. "I'm almost angry with myself for not using Nisbet in the last couple of games, although the astroturf [at Rugby Park] might not have been great for him," he said. "We had to show a commitment and I think we did, I don't think that could be thrown at us, but it's the same pattern repeating. Dominate the game, dominate the final third, and then fail to execute."
The 'natural reset'
There was an interesting response from Johnson when he revealed that the biggest challenge for him across the next five weeks is not allowing the confidence within the squad to dip. They are just five points off of third place – their case has been helped by the lack of consistency of those around them – but, equally, they are just five points off of Kilmarnock and Ross County as they have slipped into eighth position in the table. Johnson has urged the players to trust the process, believing that returning players will offer a shot in the arm for the remainder of the season. "Maintaining the belief within the squad is key," said the Hibs manager. whose squad have a long time now to stew. "I think the break will act as a natural reset. I'm actually positive about the future because I believe that in a fully-fit squad, we have enough wins in us to reach the top six, which is the minimum where we want to be, and potentially more."
Turn to under-19s
Given just how limp Hibs have been it might have been an idea to bring in the energy of some of those from the under-19 side who have had a successful run the last few months against high quality opposition. It is always difficult introducing young players into a team that is faltering but the point, surely, of a quality youth programme is that it feeds into the senior side. A few of them might have learned a little more by being thrown in at the deep end.