Hibs reaction: Rangers fans shown how to do it but midweek fears, smoke bomb mindlessness, attacking threat
We pick out three talking points from Hibs' 4-1 win over Livingston in West Lothian ...
That's the way to do it
Following the disgusting response of some Rangers to a minute's applause in tribute to Hibs chairman Ron Gordon at last weekend's Viaplay Cup final, it was laudable to see and hear the respect shown by Livingston on Saturday. The contrast could not have been more stark. In a show of class and human decency, the home players followed Hibs' lead in donning commemorative T-shirts in honour of the Leith club's owner, who recently passed away, while every one of the 5531 men, women and children in attendance observed a minute of silence in an impeccably-observed mark of respect, where only the plaintive squawk of seagulls overhead could be heard. Given the Hampden shame-fest, it is surely too much to expect that those Rangers fans can learn from Livingston and demonstrate some empathy and kindness towards a grieving family, who will be in attendance when the Ibrox outfit travel to Easter Road this midweek. Instead, it is far more likely that those morons involved in the inappropriate singalong at the national stadium will double down – too arrogant and cold-hearted to display the kind of emotional benevolence decent people in society muster when someone's husband, dad, brother or friend dies. There has been a lot of talk recently about Rangers' standards and while a club like Livingston can't compete when it comes to trophies, their fanbase showed they are head and shoulders above with such a dignified response. They set high standards. It would be nice, although unexpected, if Wednesday night's travelling support could at least try to reach them in Leith.
Threats in attack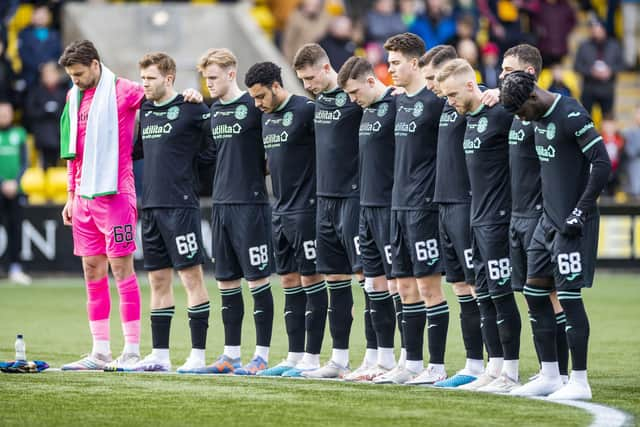 Lee Johnson's oft-used phrase came to mind on Saturday as Hibs demonstrated that, as a work in progress, they are making some positive progress in achieving their aims. And, it is bearing fruit. Displaying more and more positives since they off-loaded a number of players in the January window and completed some astute business in terms of key acquisitions, they are a more complete, albeit more compact, unit. A man who believes in the sum of the parts, the Hibs boss now has a team with a pretty strong spine and some decent competition. While there are still some key men out injured, the return of both Kevin Nisbet and Mykola Kukharevych against Livingston leaves him with some tough choices when it comes to filling the forward line.
"I don't mind that!" Johnson said, excitedly and emphatically when quizzed on the conundrum. "Wouldn't it have been lovely to have Martin Boyle and Aiden McGeady fit for the season as well as Mykola Kukharevych, Élie Youan, and Ewan Henderson has been playing extremely well in the last two or three games, and Josh Campbell is chipping in with goals."
Add to that Scotland-capped Nisbet and US-international Matthew Hoppe and there are a range of options and scope for flexibility in formations. "We talk about the defence but you need to have that threat to ease the pressure on the defenders. Earlier on in the season we didn't quite have enough of that but the improvement in players like Youan as an example, and the recruits we've brought in and that bedding in in terms of how we want to play means we carry a threat in any game we play now."
Showing that there is still a pathway for young players to progress through the club's ranks, there was, once again, also a place on the bench for a couple who have impressed as part of the under-19 squad that performed so well domestically over the past year or so and in European competition this season. Josh O'Connor and Oscar MacIntyre were on the bench, with the young defender sent on late in the game.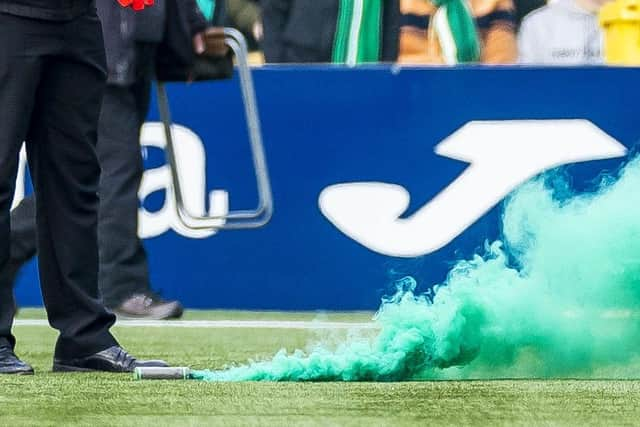 Another game and yet more smoke bombs
While Livingston showed some real respect when it came to Ron Gordon and the Hibs family, a few members of the visiting support were not so civil. The debate about smoke bombs and pyrotechnics seems set to rage on for some time to come, until sanctions are made more severe or the trend shifts, and it would be foolish to expect the disdain for artificial pitches to dissipate any quicker. But while some may not care about the inconvenience and cost to a club who dare to have a non-traditional surface as a way to help make ends meet, on a day when their hosts showed unity and understanding it was pretty classless for individuals to respond so poorly once the action got underway (or in one case, just before the game could kick off) by throwing the smoking missiles onto a surface which can be so easily damaged by them. The passion of Scottish football fans is something we can all be proud of. It would just be nice if more could channel that passion and support better and engage brains before entering a stadium.