Hibs-Rangers reaction: familiar Old Firm blockade, mindless fans could learn from Ron Gordon, stop-start season
Three observations from Rangers' 4-1 win over Hibs at Easter Road in the cinch Premiership ...
Two steps forward, one step back
So often, just as Premiership teams outwith Glasgow's big two are building up a head of steam, they hit an Old Firm blockade and have to start all over again.
On an evening when the country's top four clubs were pitted against each other, in theory, it should have made for close games and some tension as the matches reached their denouement. Instead Hibs could not sustain a challenge beyond the opening period, losing 4-1 to Rangers, while Hearts - currently the third best team in Scotland - managed to match league leaders Celtic for an hour before Ange Postecoglou's juggernaut ran right over them.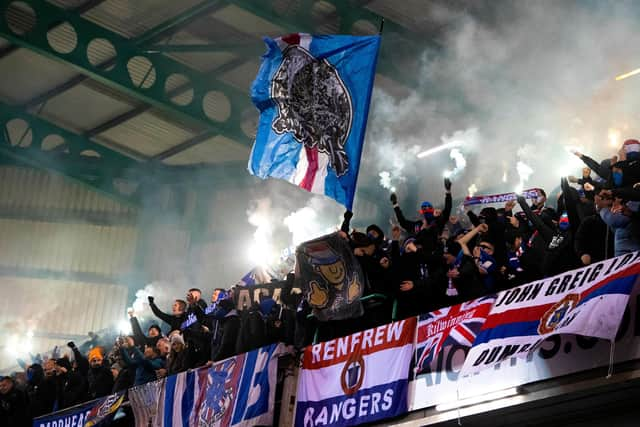 As Easter Road boss Lee Johnson said after the game, teams are working to close the gap and have to believe that they can offer a bloody nose in the odd head to head, but it is not easy. Recently, Rangers manager Michael Beale discussed the magnitude of the challenge facing him as he tries to reign in Celtic, saying: "There are two coaches who are more lucky than the others. I'm one of them but certainly he [Postecoglou] is as well. "The spending power they [Celtic] have had is big. In the last 12 months they've probably spent more than Steven Gerrard did in three and a half years so I think that is a fact."
Those relatively-vast finances, if spent wisely, make it virtually impossible for any of the remaining 10 teams in the top tier to lay a glove on them over the course of a season. Even in the head-to-heads, the other sides need to hope for an off-day if they want to take points. St Mirren are the only team to have beaten Celtic domestically this term. Under Beale, only Celtic have taken any points as both Glasgow sides have been relentless in hoovering up points. It makes nights like Wednesday almost inevitable. Even against two teams vying for 'best of the rest'.
In truth, what is important to their season's ambitions is not allowing the Old Firm beatings to derail them or to snuff out their ambition. It is a tough ask as both capital sides will face Celtic within the next 10 days and both managers will ask their men to back themselves but Hibs have managed just one win and one draw in their last 10 meetings with the Ibrox outfit. Against Celtic, there have been four draws in the same number of games but already this term they have conceded 19 goals to the Glasgow duo, with some heavy defeats denting confidence.
They cannot allow Wednesday's 4-1 defeat to do the same. After the Celtic match on March 18, they will dive into a four-game charge towards the split and they will need to recapture the form and the momentum of the seven-game unbeaten run they had pieced together before encountering the two big hitters. The games against the Old Firm will not define their season - any points or cup advances gained against them are a bonus.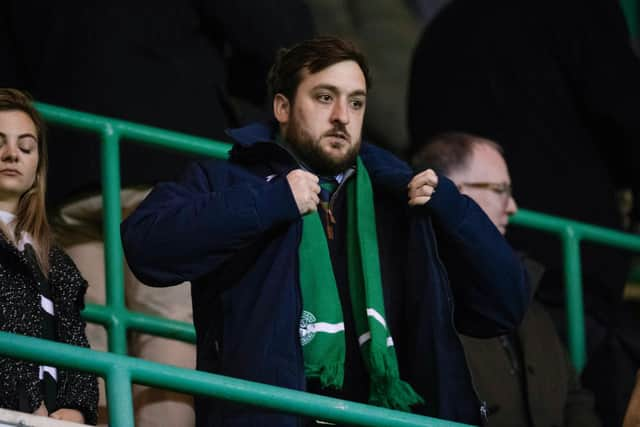 Like everyone else battling away beneath those big spenders, it is the games against the teams around them and below them that will determine how successful the league campaign ultimately proves.
No-one likes us, we don't care
What is it with people that they can't even show common decency when it comes to tributes to the dead. On Wednesday, Rangers fans lived down to expectations as they tried to shout down the host club's attempts to honour their former owner and chairman Ron Gordon, who passed away last month.
With his grieving family in attendance and just over 24 hours after a moving private memorial service, the away fans did their best to try to ruin the moment.
A decent, positive man who worked tirelessly throughout his tenure, even when battling cancer, to improve Hibs but also Scottish football as a whole, the level of disdain and disrespect from the Rangers fans was disgusting. While rivalries are a key part of football, the toxic, mindless variety served up in the South Stand on Wednesday seems inexplicable to normal, decent human beings and was the antithesis of what Gordon represented.
This was a guy who bumped into two young Hearts fans at the airport on one of his last trips to the capital. Just days before a derby match he engaged enthusiastically with them, sharing their love of the game. Unperturbed by the strips they were wearing he was more interested in the passions that united them. That bond was more important than any differences in loyalties. He understood that truth, Rangers fans, to their shame, didn't.
Those who booed and spewed their sectarian bile on Wednesday night could learn from Gordon's positivity and friendliness, and try adhering the old adage: if you can't say anything nice, don't say anything at all.
After all, they surely wouldn't stand outside a funeral hurling abuse. But their antics were not any better than that. As a family mourned the death of a husband, father, brother, they let their ill-founded invective spill over. And, on a night when their players did their club proud, they, once again, were an embarrassment as they sullied the reputation of Rangers and every decent Rangers fan.
'No-one likes us, we don't care', they belted out time and again. The fact they think that is something to sing about says it all.
It has been a funny old season. From international lulls, to World Cup breaks, there has been little chance for clubs to build real momentum. And, just a couple of weeks after one blank weekend, Hibs face another where they will be left kicking their heels, with no competitive action.
While the enforced rest at the end of February was due to Rangers' involvement in the Viaplay Cup Final, this weekend's inactivity is down to their own failure to progress in the Scottish Cup. But it is far from ideal as the players look to put the midweek defeat to Rangers behind them.
They managed to use the time wisely the last time the fixtures conspired against them, returning with a convincing victory over Livingston at the Tony Macaroni Stadium, and it also gave them some time to get rehabilitating players like Kevin Nisbet and Myko Kukharevych back to full fitness.
With a trip to Celtic Park looming ahead of the run-in to the split, Lee Johnson will be hoping it gives them time to get even more players out of the treatment room and back into the match day squad. It also gives them time to regroup and get themselves fully-organised and focused because they can't afford a repeat of the individual errors or performance dips - from front to back - they experienced against Michael Beale's men to rear their head again in the east end of Glasgow.
Comments
 0 comments
Want to join the conversation? Please or to comment on this article.