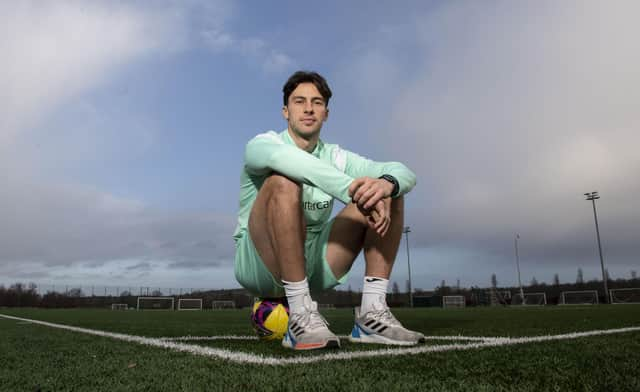 That is why there was a sense of relief in the dressing room following last weekend's triumph over Motherwell. But if those three points eased the pressure, everyone involved knows that the gauge can be fully released if they can add further victories in their next two games at Easter Road, against Dundee United in the league and then in the Scottish Cup tie against capital rivals Hearts a week later.
"The meetings happen all the time," said Newell. "It's just whether they are good or bad, that's the difference. The bad weeks everyone is in the back row with tin hats on, the good weeks everyone is at the front. In terms of this week we're not going to get carried away, we beat Motherwell 3-2. It's not like we went to Ibrox and won 5-0, it's not party season yet. We've done our job but we're still not where we want to be. It's nice to have a positive week, but that's what we should be doing, really."
A player who has enjoyed the ups and endured the downs since signing for Hibs in 2019, the 29-year-old knows that fortunes are fickle. He also knows that having had a rough patch, the fact that they still sit within three points of fourth place, is a positive, especially as he feels that there is better to come.
Manager Lee Johnson vented his frustrations in recent weeks and, admitting he is fed up with the mediocrity, he made it clear that several players were free to move on. Six have already departed, with more expected to follow before maneuvering is done this month and while some have questioned the wisdom in making players know that they are surplus to requirements, Newell has no issues with that approach. Describing it as the norm in football, he added that even if it did upset some, the flip side is the fillip it affords those who are deemed worthy of hanging onto.
"It's part and parcel," said Newell. "As players, you're exposed to that from a very young age. As soon as you turn professional you see lads frozen out of clubs or kicking up a fuss because they want to leave, and you get used to it. You can't think about it too much or let it affect you because it happens up and down the country. The flipside is nice. Everyone wants to be loved and be a part of things.
"There's been a lot of change here, hasn't there? There's been three managers in 12 months, a massive change in players – in and out. But, we're not a million miles away. Little things, like injuries, decisions that have gone against us, moments of luck prove that. So we're not a million miles away from where we want to be but in terms of league position the form we have been in hasn't been good enough."
Last term a slow start cost them a place in the top six and with everything so congested in the top flight, Newell does not want to risk being pipped to the post again. "That's the craziness of the league. I always look back at how we missed the split last year. We were on a horrendous run of form but we went to Hearts and if we had won there we'd have got in. So you look at the results and wonder how we didn't nick a win here and a draw there. It's so tight. You put two wins together in the league you go up two, three, four places. It's about being resolute, and getting a clean sheet would be nice, then it's over to Nizzy to score another hat-trick!"
That is slightly tongue in cheek but the presence of goal makers and takers in the side, with Aiden McGeady and Kevin Nisbet back in the ranks, has certainly bolstered confidence. "We've added quality, without even buying anyone. We've just got good lads back.
The first goal at Fir Park gave them something to build on and drawing first blood against United would be a help but Newell says the side now believe there is more than one way to win. "It would be nice to score first but, at home, even if they did score first, I don't think it would affect us as much now. Two or three weeks ago, because of the run we were on, mentally, if you go a goal down it can be, 'oh, here we go again'. But the confidence has been lifted a bit. If we win against Dundee United, beat Hearts in the cup, win against Aberdeen, then it's like: 'Here we go'."