Hibs' last home Hearts derby 'bit of strange day' after boot fiasco and group chat request
When Hibs last took a point against Hearts in August, the biggest issue was addressing Martin Boyle's need for some boots. Since then, it has been a case of finding someone to fill them come derby day.
On that occasion, back in August, the Australian international had only just completed his return to the Easter Road club from Saudi Arabian outfit Al-Faisaly but he lived up to the hype, coming on to net a stoppage-time equaliser in a 1-1 stalemate and send three sides of the Leith stadium into raptures.
"It was a bit of a strange day because even that morning we still didn't know if Martin was eligible," recalled club captain David Marshall, who has experienced three derbies so far this season but is still looking for his first win. "I had never met Martin before but he literally put on the group chat that he was looking for a pair of boots! I had heard that he was a bit of a character so I wasn't sure if it was a joke but then three hours later he scored the equaliser in the last minute. It was a good moment but hopefully we can have an even better one on Saturday. Obviously, [Boyle] is missing this time but it gives someone else the chance to be the hero."
As Boyle ran the length of the East Stand in celebration, Marshall was already at the corner flag, having sprinted past the away end to enjoy the moment with his own fans. However, he is pleased that the capital derby has not followed the example set by their Glasgow counterparts and shut out opposition supporters. "I think it adds to it," said Marshall. "I don't think you'll ever hear any fan, player, or manager say they don't want the away fans there. Unfortunately, there are different circumstances in that [Celtic/Rangers] game at the minute. But at Easter Road, I think even the Hibs fans relish having the Hearts fans there because it is an opportunity, if you beat them, to goad them. It adds to the atmosphere and football is for the fans so, for me, it definitely takes something away from the experience if there are no away fans there."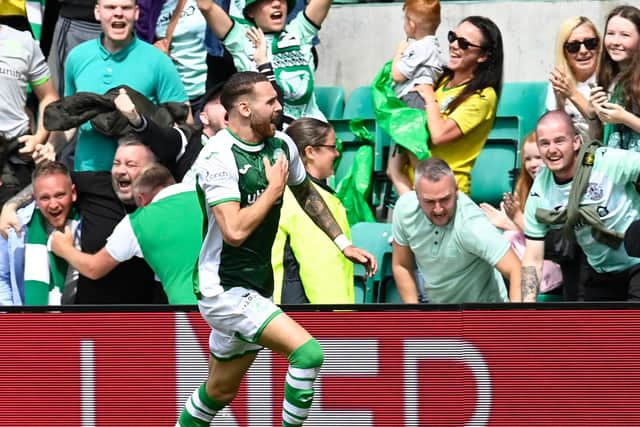 The reality is that in recent years Hearts have had the bragging rights, especially at Easter Road, where there hasn't been a home victory since March 2018. There have also been no Hibs derby goals since Boyle was injured. With a top six place still to be secured, Marshall recognises that now would be the ideal time to address that. "This one has extra significance with both teams going for their end goal," he said. "We have not done enough yet to guarantee ourselves top six so we need to make these points count, while Hearts are a few points ahead of us, looking at third and fourth spot."
Hearts' recent struggles cost Robbie Neilson his job and Marshall is keen to see how interim Gorgie boss and former Scotland team-mate Steven Naismith approaches the fixture after less than a week in charge. "He was a good team-mate and he is a winner," added the goalkeeper. "He was always opinionated in the right way. I'm not surprised that he's moved into coaching and management. It will be interesting to see what he does and how he is on the touchline."