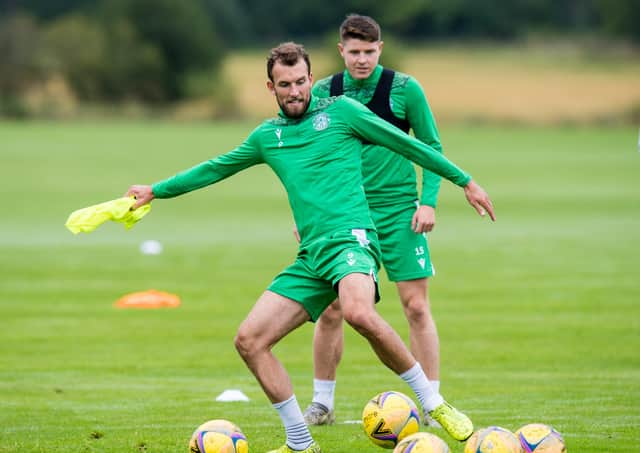 Christian Doidge and Kevin Nisbet have featured in a two-man attack for Hibs in recent matches. (Ross Parker / SNS Group)
For most of his playing career, Jack Ross was used to teams playing with two up front. But such are the fashions in football, the two-man topline has largely fallen out of favour. Until now.
With two of the most prolific strikers in the country now at his disposal, the Easter Road boss, whose side is flying high with an unbeaten start to the season, is tinkering with formations, looking for the one that maximises assets and he says he will not be dictated to by trends.
While describing their partnership as "embryonic", Ross believes that the goals already produced by Christian Doidge and Kevin Nisbet (with two and three respectively in the first four games) suggests significant rewards as the season progresses.
"They're still finding out about each other's game. We're still finding out about how to get the best out of them. Although there's similarities, there's enough differences between them as players to work effectively together.
"The trade-off of playing two strikers is that you have to give up a body somewhere, whether it's the middle of the pitch or in your backline. We have done both this season at times. It's always assessing what you have at your disposal and trying to get your strongest team on the pitch in the strongest formation."
The arrival of Alex Gogic as a hard-working stifling force in the centre of the park has allowed them to sacrifice a body in there and fans' favourite Scott Allan has paid the price at times.
But, the current squad boasts flexibility, with several combinations of personnel and formation open to Ross.
"We will continue to make changes as we see fit and sometimes we'll get it right and sometimes we'll get it wrong," said the Leith gaffer. "But the fact we have started the season positively, playing in the main with two strikers, has given us encouragement. But it is a trade-off nowadays, particularly when there's not that many other teams who do it.
"Interestingly enough, because I knew we were in a position to maybe do it this season, I was reading quite a lot about it and I read that there were more teams in the top flight in Spain playing with two strikers than in the English Premier League, which was really interesting, whether that was a 3-5-2 or a 4-4-2.
"There are aspects of football that are very cyclical, we get back to the same point eventually and it's nice to have the option to do it. It's something I played in a lot, but haven't coached a lot because a lot of my time has been done in the main when teams have played with one striker and different permutations behind that."