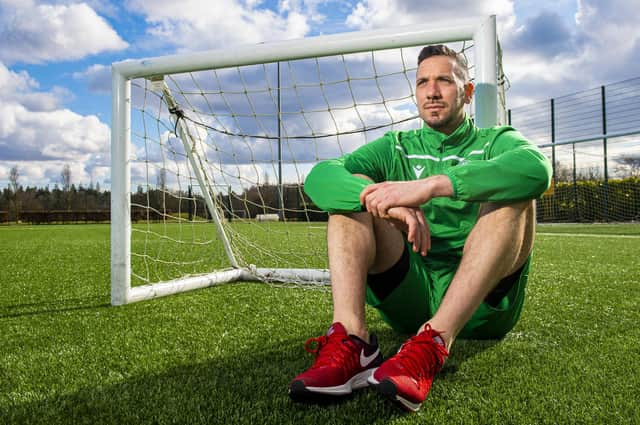 But the arrival of new manager Jack Ross, pictured inset, saw him reinstated as Hibernian's first-choice goalkeeper and from a disappointing start to the campaign, he is looking to end it with all his European hopes – for club and country – realised and, perhaps, a Scottish Cup medal, as well.
The first task is to bounce back from Tuesday night's derby defeat by Hearts. Still hurting, he knows that the 
best way to soothe the pain is refocus on the bigger picture and another huge game.
"It is about pride and it 
matters for our club to win derbies," said Marciano. "We know how good it feels after you win but the other side of that is you feel really bad when you lose derbies, especially at Easter Road. But the good thing about football is that you always have the chance to fix it and our best chance to do that is in the semi-final [against Hearts, next month] and the gaffer mentioned that after the game. If we need extra motivation, we have that game so we will go again."
Starting this afternoon at 
Pittodrie, where they face one of their main challengers for a third-place finish and a Europa League qualifying spot.
"It is a massive game for us, especially because of where we want to go this season and what we want to achieve. Most important, we must stay focused and not forget the mistakes we made on Tuesday but learn from them. We have to try to be better in our approach and in the tempo of the game and try to get as many points as we can.
"When you want to get to good places, you are tested every week. It is a blessing and that is why we play at this club. Our target is to finish as high as we can and to do that we need to collect points.
"We are in good form at the moment. We have had a good run, we have gathered points and haven't lost many games since the new year. But the derby was a disappointment for us and we have to try to put it out of our mind now and move forward and try to build the momentum again. We have to keep going until the end."
Setting his sights on a bright end to the season domestically,
he is also plotting Scotland's downfall, as the Israeli keeper
gears up for the crucial play-off against Scotland at Hampden later
this month.
Someone who enjoys playing his club football in this country, he is hoping to disappoint his temporary homeland by sending Scotland packing and progressing to the final shootout with Norway or Serbia to book a place at this summer's European Championship.
"The game is massive for both countries. I think that would be the best thing that could happen in your career, to get to a major finals with your country. It is a massive thing, especially for Israel because we have not qualified in ages! It is a great opportunity but we know it will be a hard game and even then it is only the first step.
"I have played the last five games for Israel, but first I need to keep playing well for Hibs so that the manager will keep selecting me. If I keep my place then I will do my best as always."
The fact Marciano is able to harbour his summer dreams is all down to a massive turnaround in his season's fortunes. Something that is not lost on the 30-year-old.
"It's amazing! Football is so funny sometimes. Everything changed so quickly and we can still finish in a good place this season, go to Europe, go high in the league and do well in the cup. But these are all things that can distract you if you think about them too much, we need to remain focused 
every day, to analyse and train and try to be better.
"I appreciate every moment, and I appreciate the opportunity the gaffer has given me since coming to the club. He has shown faith in me and I am pleased that I have managed to play well for him. Now I want to do even better for him because he deserves it and is doing a great job here.
"I've been through a lot in my career but I know that as long as you stay focused and stay humble, that is the key."