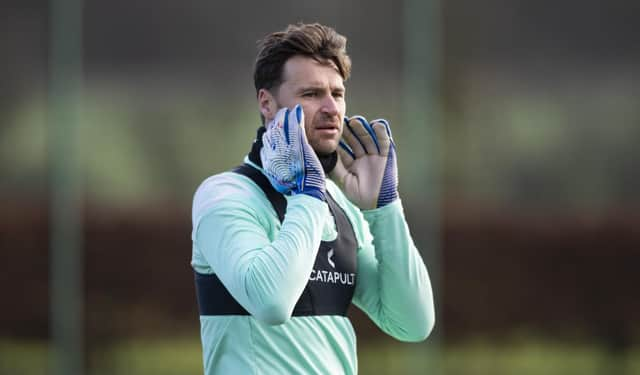 That isn't to say Steve Clarke will like what he hears should he decide to ascertain where Marshall stands with regards temporarily rescinding the international retirement that was only announced earlier this season. Craig Gordon's desperately unfortunate double leg-break has left the Scotland manager with a problem many felt he should have seen coming.
Clarke addressed the problem of the lack of goalkeeper back-up in September. "We are looking around trying to find somebody with a granny that is Scottish that doesn't really know they are Scottish," he said. The fact Gordon started the friendly against Turkey in November offered a clue to how well this was going.
Now there are reports that Norwich City's former England Under-21 goalkeeper Angus Gunn is considering switching allegiance to Scotland, for whom his goalkeeper father Bryan won six caps in the 1990s.
Gordon's injury, sustained in a collision with Dundee United striker Steven Fletcher shortly before Christmas, has placed Clarke in a bind. Marshall would be the obvious candidate to step back into the No 1 spot. Now 37, his form since signing for Hibs has been a rare bright spot in the Easter Road side's troubled campaign.
But he announced his retirement rather abruptly in June. A statement on the SFA website explained that it was "to allow the next generation of international 'keepers to gain vital international experience". Gordon has played every international match since. Scotland kick off their Euro 2024 qualifying campaign in just over two months' time, with home matches against Cyprus and, perhaps more relevantly as far as Scotland's goalkeeping needs are concerned, Spain.
Motherwell's Liam Kelly or Zander Clark, who has just replaced Gordon at Hearts, are options. But the 47-times capped Marshall would surely be preferable in two such crucial games. He has after all seen it all since making his international debut as long ago as 2004 - indeed, if he did return, he would create a new Scottish record in terms of length of time between caps.
Firstly, has Marshall heard from Clarke since the news about Gordon? He says he hasn't. Not yet, at least. Would he welcome a call?
"I am more than happy, given the respect I have for him, to speak to him," Marshall said. "But I am sure he has got a load of good goalkeepers playing well and other options. Obviously, Zander is playing very well for Hearts and it looks as if he will get his chance now. I am sure he (Clarke) has got a plan for that going forward."
Marshall is understandably uncomfortable about dwelling on the subject due to how soon it is since Gordon was injured. "I understand the question because of the horrific circumstances in terms of what happened to the big man, but the manager, in his time with Scotland, has made great decisions and I am sure he will have a plan make the right one," he said. He isn't moved by the renewed prospect of reaching 50 caps – and being inducted in the Roll of Honour. "It is answering a hypothetical, which is impossible," he said.
Marshall has enough on his plate already, which may influence his thinking, although Hibs manager Lee Johnson has stressed that he is supportive of whatever the goalkeeper chooses to do regarding Scotland.
As Easter Road skipper, Marshall is the go-between for players who are perhaps dismayed by Johnson's recent criticism of the team. Last Monday's 3-0 defeat to local rivals Hearts seemed to be a tipping point. Johnson was not able to bring himself to enter the dressing-room afterwards and delivered a stinging post-match verdict denouncing the "mediocrity" at Easter Road.
He has since revealed that ten of his current squad are not in his plans. That's a lot of discontented players wandering around East Mains. Marshall has no truck with Johnson's methods. He has experienced many ways of operating in two decades as a professional.
"Everybody is different," he said. "What you guys get to see …it is pretty much what you see is what you get – we get the same. The gaffer is probably no different in press conferences as he is with the lads."
What has been the reaction among the players to the manager's latest post-match comments? "To be fair, I have not heard his press conference at all," said Marshall. "But he speaks his mind. He is an emotional person at times. He just wants us to do well and at this moment in time we are not doing well. After a derby defeat everything is magnified. But I am sure we will get back to winning ways."
Central to this aim is the welcome return of Aiden McGeady. The 35-year-old winger has missed most of the season due to a knee injury but is now being re-introduced gradually. He was given 45 minutes at Tynecastle in an improved second-half display by Hibs. Marshall is confident that his old Celtic teammate can help inspire a turnaround in Hibs' fortunes in the remainder of the season. "You miss big players and you miss big personalities and good players," he said.
"I've known Aiden since he was 12 - his dad was my English teacher at high school! I've known him a long time and he's certainly a confident lad. He'll relish the challenge."
Despite everything, Marshall, too, has enjoyed a return to Scottish football. He is being treated to regular blasts from the past. Today, for example, is his first return to Fir Park since a memorable 4-4 draw while he was with Celtic at the start of the 2005-06 season.
"I have had a few bad occasions in my time at Fir Park to be fair," he said. A previous visit, when he was on the bench, became known as Helicopter Sunday. Hibs urgently require take off this afternoon.