Hibs have to win Hearts battle if they are to have any chance in war - and surprise Steven Naismith tactic could hurt them
Both Hibs and Hearts have spoken about how today's Edinburgh derby represents the ideal fixture to help them get their respective seasons back on track – but they should be careful what they wish for.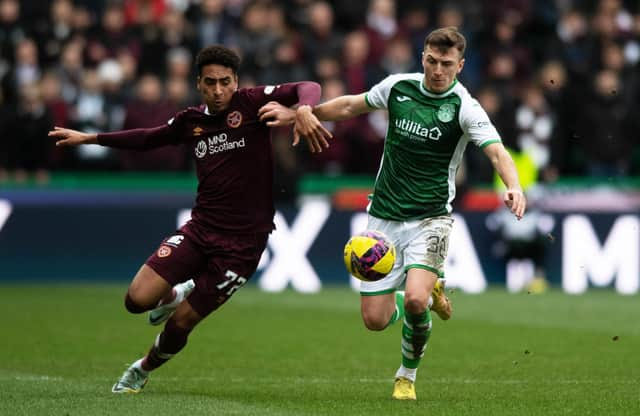 Acknowledging that there is something wrong if they cannot focus minds and lift themselves from the doldrums of recent results to tackle one of the most enticing of their season's head-to-heads, they have bestowed on a fixture that is already massive, added significance. How the two spluttering sides handle that at Easter Road this lunchtime will be intriguing.
The form book, we are often told, goes out the window when the derby days roll round but that is almost irrelevant given the clubs' most recent run of disappointing results. Not long ago Hearts looked virtual certainties to finish in the top three for a second successive season and bounce straight back into European group stage football next term. But five straight defeats, at a time when Aberdeen were managing to find their feet, has seen the Pittodrie side overhaul the 10-point advantage Hearts had built up by the end of January and move above them in the Premiership table.
Worried by the slide down the league table, that prompted the Hearts board to call time on manager Robbie Neilson's managerial stint and install development coach Steven Naismith as interim boss. While no-one knows how that will go, not even Hibs captain David Marshall, who knows him from their Scotland days, expects him to be intimidated by a trip to Leith for his first game in charge. History would suggest that Naismith actually enjoys the Edinburgh derby, with a win percentage of over 83 per cent as a player. He also made his Hearts playing debut in a 1-0 victory over the Easter Road side and will be looking to replicate that triumphant feeling in his first match as manager.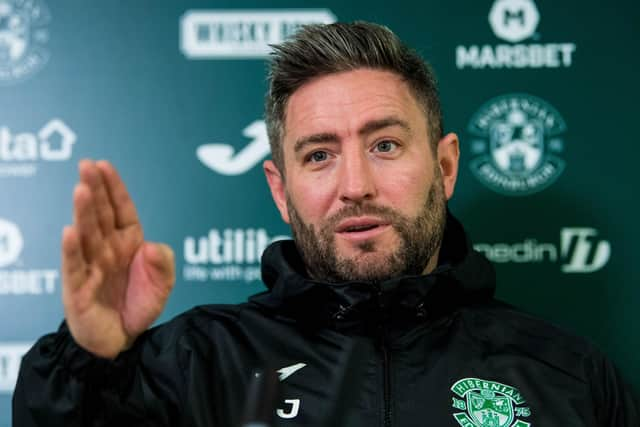 If shuffling the pack so late in the season and so close to a match against Hibs is a risk, Naismith's arrival less than a week before the latest meeting could also be an issue for Hibs. One of the criticisms of Neilson's reign was that his tactics were fairly predictable, despite the fact he recently switched from his preferred 3-4-3 to a 4-2-3-1. What system Naismith will use and the personnel he will deploy are less well known, especially as he has been making noises about giving youth players more opportunities.
Hibs manager Lee Johnson, who has also admitted to having some injury concerns, with Paul Hanlon still a doubt and a few others being given as long as possible, will also have to try to second guess what his rivals will do. "What you think you know the opposition is going to do is difficult, but we have people that we know and they'll be the same," said the Hibs boss. "In football that happens, I think we know what to expect. More importantly, we know the individuals that are available for selection and their strengths and weaknesses and we'll try and impose ourselves on the opposition. Normally, it is 85 per cent where we concentrate on ourselves and 15 per cent on the opposition. Lads don't want to hear too much about opposition, they would much rather hear about themselves and how their attributes can come out in the game."
But, if Hearts have made it clear that third place remains their intended aim, Hibs have still not written off the same lofty position, despite being five points behind today's opponents and wvwn further adrift of Aberdeen. There are still two games against Hearts and another meeting with the Dons. They will have to win the battle if they want a chance of winning the war, though, and will need to claim enough points from their next two games to see off Livingston and remain in the top half of the table. Then it becomes a sprint for the finish.
If they want to give themselves the best hope then they need to deal with the pressure and stop the derby rot. It is now nine games without a win in this fixture for Hibs, with the last win at Easter Road lodged even further back in history. There were more competitive signs for long periods of the last loss but, lacking the clinical edge of their rivals, they still ended up exiting the Scottish Cup and on the wrong end of another 3-0 loss.
They have, however, extrapolated enough from that day to give them belief. "It's a great game, isn't it?" said Johnson, enthused rather than cowed by everything that is at stake. With some supporters still unconvinced, he knows there is work to be done but a derby win would count in his favour, with the new club hierarchy likely to be carefully monitoring what they sit at the split. "I'm looking forward to it. We have something to play for – we're not going down."
That is a fact but aspirations were always set higher than that and Johnson believes they are still attainable. "We've got the opportunity to secure a place in the top six which then gives us a chance to secure a place in Europe so that's the aim," he said. "That's our goals and that's what we are trying to achieve."
Hibs will need the home fans on side. Despite this week's upheaval, the travelling Hearts fans will always fancy their chances in a fixture that historically favours them. But, despite recent results, Hibs are hoping for unity between team and fans. Home advantage could be an asset if the vibe is right but if there are tensions or unrest it is the opposition who could tap into it. "They're a team that's low on confidence," said Naismith. "It's been pretty similar to Hearts over the last month, say, in terms of results and performances. And there is that bit of negative feeling. But it's a derby."
The intrigue is in seeing who can defy their recent form and give themselves a much-needed lift.