Hibs defender Darren McGregor reveals the surprising secret behind his longevity and explains why he is not ready to fade into retirement
Darren McGregor has long since passed the accepted expiration date on a football career.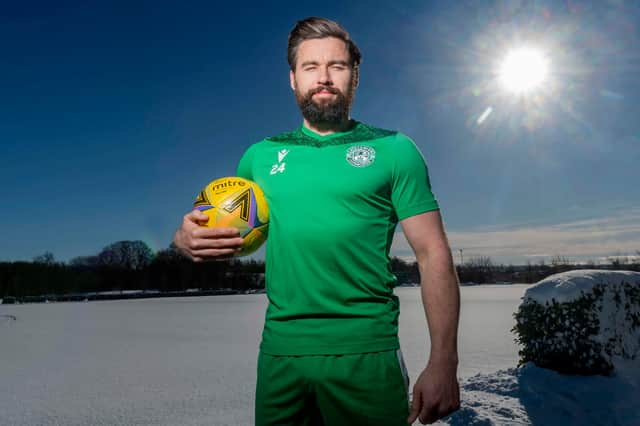 But, having decided to spice things up, the 35 year-old has proved himself unwilling to be constrained by such arbitrary limitations.
The Hibs defender has had to bide his time this season, regularly restricted to one of the substitute slots as others made the starting berths their own. He managed a few League Cup games as those ahead of him in the pecking order were called away on international duty, but it is only in recent weeks that he has been given the chance to impress on league duty. He has not squandered the opportunity.
He lists several factors but, possibly surprisingly, focuses on the medicinal benefits of turmeric.
"It was specifically under Neil Lennon and my knee was giving me all sorts of bother. It was a dull ache and I'd tried taking injections or spending a day in and a day out. I don't take any anti-inflammatories but I was advised to take turmeric by the sports science team. It's proven to help with inflammation in your joints. I take them in concentrated form like a tablet and Nathan Ring [physio and Hibs' Head of Sports Medicine] has devised a plan along with Colin Clancy, the strength and conditioning coach, which has helped me.
"This has maybe been 12-18 months of meticulous work in the background. Trying things and if they don't work trying something else. Now I feel amazing, I'm in a sweet spot and I would just like to keep it going."
But, as well addressing his physical predicament, as a team player and mentor, he has also had to consider the bigger picture as he waited to break back into the side.
"You have to park your ego and accept that the guys who are playing ahead of you deserve to be in the team. The back three before I came in were doing tremendous and I had to wait for my time.
"The gaffer decided to put me in and I think I have taken the opportunity but that is because of a lot of hard work that has been done in the background when no-one was really paying attention. That was in the off chance that I would get an opportunity and I think that has helped me to fit in seamlessly."
The endeavours behind the scenes comprise more than just time on the training pitch or in the gym, it is a lifestyle choice and a willingness to embrace any ideas that could squeeze a bit more out of a body he acknowledges is not getting any younger but remains capable of facilitating his playing ambitions.
Coming into the team for the Rangers game that commanding performance at the heart of the backline, helped the team regain its footing after the Betfred Cup semi-final slip. Retaining his place, he has been part of a winning team ever since.
The Leith side had been heading to Ross County in search of a fourth successive win before a frozen pitch saw that match postponed.
But last week's important victory over Aberdeen means that they will hold onto third place regardless of results elsewhere. And McGregor's strong defensive displays and leadership qualities have contributed to that.
But he admits it wasn't so long ago that he feared time was running out for him and while he concedes that he now treats every game as though it could be his last, he says the turmeric has given him a new lease of life.
"You are aware that the clock is ticking and your career is winding down but I can only speak for my own personal feelings and how my body feels. There were times in seasons gone by when i was training some days and not training others just so my body could recover but, this season, touch wood, I have trained every single day and done everything asked of me in the gym.
"I just need to keep doing what I'm doing every day and see how long I can go.
"As a football player growing up I think you think of 30 as this dreaded age but I think it is definitely changing. Paul Hanlon is 31 now; Paul McGinn is 30."
That gives a combined age of 96 for a back three who have managed two clean sheets in the past three games.
"Now, 30 is young. People that don't play the game that are the same age as me, who I maybe went to school with and haven't looked after themselves the way I have or done the training I've done, they maybe put themselves in my shoes and think that at 35 I'm definitely past it. But people forget the amount of work we do when we come in here and how meticulous we are with diet etc.
"Footballers are definitely getting fitter. Maybe 30-40 years ago, 30 was the age of retirement but I can only be honest. I am training every day and I'm sure a lot of the guys will say I do well in training, although some might say I just kick people, and I feel good coming in every day. I still enjoy it.
"I'm not at a point when I get up every morning and my body is that sore that I'm thinking I can't be bothered going in. I am appreciating that I am in a hugely privileged position and I want to stay in this position for as long as I can so I am willing to sacrifice whatever needs to be sacrificed for me to keep it going and keep playing for Hibs."
A message from the Editor:
Thank you for reading this article. We're more reliant on your support than ever as the shift in consumer habits brought about by coronavirus impacts our advertisers.
If you haven't already, please consider supporting our trusted, fact-checked journalism by taking out a digital subscription.
Comments
 0 comments
Want to join the conversation? Please or to comment on this article.