Hibs boss Nick Montgomery lifts lid on January window plans but admits 'we don't have a budget to sign players'
Hibs will need to balance the books in order to strengthen the squad this winter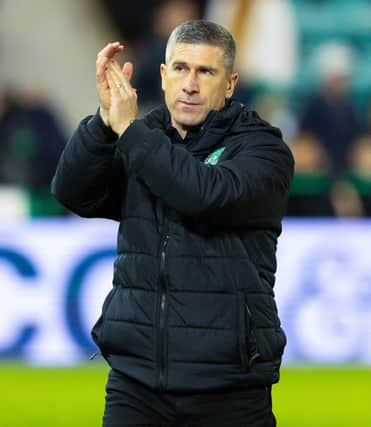 With the January transfer window looming, Hibs are already looking at ways they can improve the team but manager Nick Montgomery has warned that members of the existing squad will need to move on before new signings can be made.
"Look, it's simple maths," said the Easter Road boss. "If the budget has been spent then, yeah, you have to move players out to bring others in. Or players get transferred and, no doubt, from speaking to the ownership, if that happens they are more than happy for a portion of that to come back into improving the squad and filling gaps.
"So it's an ongoing process that myself and [Director of Football] Brian McDermott are constantly talking about."
Appointed in September, after the summer transfer window, Montgomery has been working with players inherited from his predecessors. Implementing his own style and tactics, the team, who sit seventh in the league, are in a transitional period but he has also been hamstrung by injuries to a number of players.
"I suppose every club is always looking at how they can improve the squad and where they are light on bodies," he added.
"We have long term injuries, where we can't really put a date on when they will return. But we also understand we don't have a budget to go out and sign players."
Quick to promote talent from the club's academy to fill the voids when more experienced performers are sidelined, Montgomery has a reputation for developing young talent. But he says there has to be a blend.
"Maybe one or two players will leave, who knows? That's football. Sometimes you lose a couple of players and that's when you react and bring a couple in. We're always looking at players for the future who we feel can improve the club.
"Maybe it's in January or at the end of the season. All you can do is concentrate on what you have in the building and the players you have fit. But we are definitely always on the lookout for anything that can improve the squad."
Comments
 0 comments
Want to join the conversation? Please or to comment on this article.