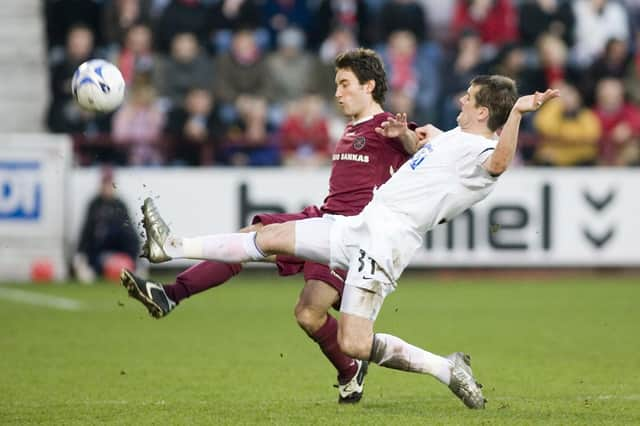 They were both playing for this afternoon's opposition, Hearts, at the time and while an accidental collision on the pitch did not cost them victory over Aberdeen in that 2006 tie, at Tynecastle, it did signal the beginning of the end of Johnson's Gorgie career after then owner Vladimir Romanov took exception to the incident.
"Vladimir Romanov told me I'd never play for Hearts again after that Scottish Cup tie," recalled Johnson. "Jamie and I ran into each other and they went through to get a shot off. They didn't score but Romanov said it was embarrassing and I would never play again."
A bonkers period in Hearts' history, Johnson made just two more sub appearances before moving on that summer. "The next week Graham Rix came in to tell us the team for Dundee United away," continued Johnson. "Romanov had already picked it and decided what time people were being subbed off.
"A few games later I was back on the bench by default, we got an injury to someone in the middle of the park and Rix called me. As I was getting stripped, the phone goes and I'm told 'Johnno, put your gear back on' and they put a winger on instead. He had a horror 20 minutes, so I got the call again – same thing happens, the phone goes and I was told I wasn't going on. It happened three times in the one game! Then I was picked to start the Champions League qualifiers but wasn't registered so couldn't play in that either! It was pretty crazy and I was better off out of there."
Hearts went on to lift the Scottish Cup that season, with Johnson watching his mates from the Hampden stand, but this term his focus is on helping Hibs progress past their derby rivals today and then working towards lifting the silverware. "On any one day absolutely it's 11 men versus 11 men plus subs," added the Hibs boss. "Are they a bit more advanced in their journey? I would say, yes if I'm being honest with you. It doesn't mean that we can't A, bridge the gap, B do a really good January and come out a better squad."