Hibs boss Lee Johnson pleased that he has a 'mini football mafia' he can lean on
Hibs manager Lee Johnson will mark his first year at the helm, plotting a way to keep his team climbing up the standings.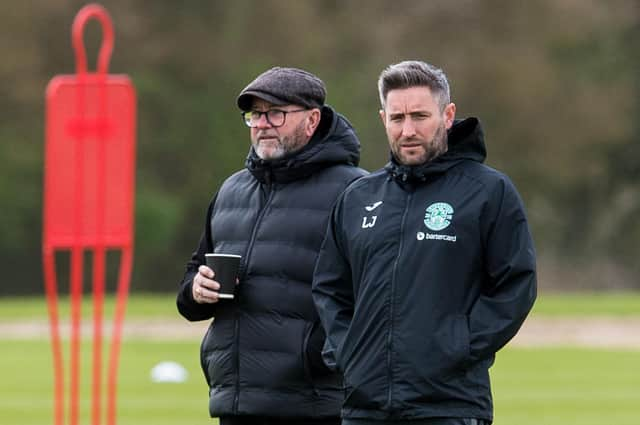 Unable to carve out a win at Pittodrie last weekend and with games fast running out, fourth place is likely the best Hibs can hope for but if it means they leapfrog city rivals Hearts, it will be meaningful. It will also represent improvement.
When he was appointed on May 19, 2022, Hibs had just wrapped up the season in eighth place but, 12 months on, they are, technically, still in the running for third.
It is the kind of lofty finish his dad Gary would have loved after his relegation experience with Torquay, who have dropped out of the National League.
But, part of what he describes as a "mini football mafia", the family are able to lift each other from the lows and celebrate the highs together.
"I am very proud of him for what he has done in the game," said Johnson. "He has gone down this year, in really difficult circumstances, but I think it shows what they think of him because they have kept him on.
"We have helped each other in the past. At Bristol City it worked really well because we gave him the four good quality players who were just on the fringe of our first team and it was better for us because if we loan them out, window to window, in the league then we couldn't recall them but if you loan them out to the Conference or below then we could recall them in 28 days. So he had good players off Bristol City and that is why club contacts are really important
"Obviously, we have conversations about football and my daughter always moans at Sunday lunch that it is ten minutes talking about her and then three hours talking about football. But football is in our family. There are ten Johnsons in football and another set of Griffins, which is my dad's mum's maiden name, who are also in football. It is, I suppose, a mini football mafia throughout the UK. Some are scouts, some are at academies, some are in player care, they are everywhere. It's good because we have those conversations and connections."
Dad Gary enjoyed a busman's holiday recently as he took time after the resolution of his league to see his boy at work. Observing training and media work before attending an Easter Road win over St Mirren, it proved a proud experience for father and son.
"I had, obviously, told him what a good football club it is but now he's seen it," said Johnson. "He loved it. He knew Hibs are a big club but to see how big it is when you are at a game, at the stadium… you see the history, the training ground and the workforce. Listen, he loves football and he enjoyed it and he was delighted that we won because he knew how big a game it was."
With three fixtures left, against Rangers, Celtic and then Hearts, and plenty still to fight for, Hibs are only dealing in big games.