A 77th-minute goal from Elie Youan allowed Hibs to leapfrog the Buddies into fifth place in the cinch Premiership and maintain their push for a top-four finish. However, Johnson singled out both midfielder Jeggo and defender Egan-Riley for helping "solidify" his team, with Hibs looking far more organised and harder to break down than they have been throughout the season.
"That was a big result," said Johnson. "It's the third game in a week. We are starting to show signs that we are a solid outfit after a bad run with a lot of goals conceded. I thought Jimmy Jeggo and CJ Egan-Riley were fantastic. You can see why we brought them to the club. We had a nice balance. It was always going to be a tough game. St Mirren are excellent at home and you can see why. Two honest teams going at it and I thought we had a little bit more quality on the day in a couple of moments.
"[On loan Manchester United defender] Will Fish is an outstanding young player and I'm delighted to bring in CJ, and I've got Paul Hanlon in there who organises and talks, and Jimmy in there, another talker, another bit of experience. That's solidified us, it's what we needed. We're going to need to be a little bit lucky in terms of not getting those players injured, because we haven't got as much depth as we would like in that position, but credit goes to the whole team."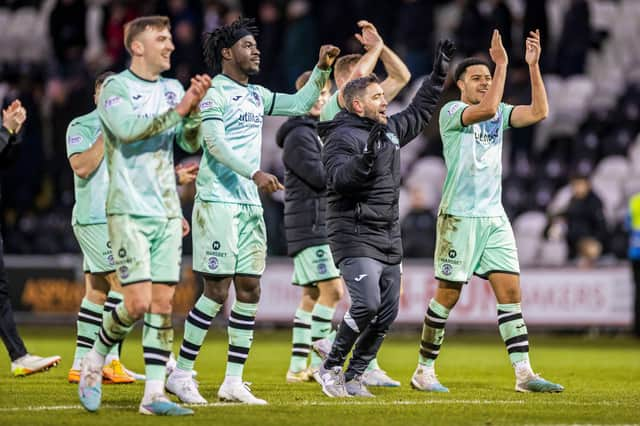 Johnson was also pleased with the performance of Youan, who scored his third goal in as many games for the club. "He's in excellent form," continued Johnson. "It's difficult when a foreign player comes in, you never quite sure how they are going to settle, the tempo of the league, the culture, the country, but it seems like he loves it, he enjoys it and he's now showing why he played through all the youth levels in France. He's a really good signing for us. It's an excellent finish. At first I thought he'd been pulled down, but he's done well to stay on his feet and it's a wonderful finish at a very important time of the match."
The only downside for Hibs was two further injuries, this time to forward Harry McKirdy and midfielder Joe Newell. "Joe Newell seems a little but better than Harry McKirdy does," said Johnson. "It's difficult to say [on McKirdy] in those first 48 hours but he's rocked his ankle and we'll need to make sure there's no weight-bearing on it and then we'll get it scanned in the next 48 hours."
It was a day to forget for St Mirren, who lost for the first time at home since July 31 and ended a 11-match unbeaten streak at home at the SMiSA Stadium.
"It [the run] was always going to end sometime – you can't do that all season," said their manager Stephen Robinson, who lamented the tricky playing conditions. "There was not a lot in the game and they would have probably settled for a point like ourselves. It was one of those games when conditions dictated and made it impossible to pass the ball. I don't think either team caused many problems, but they had the one bit of quality."