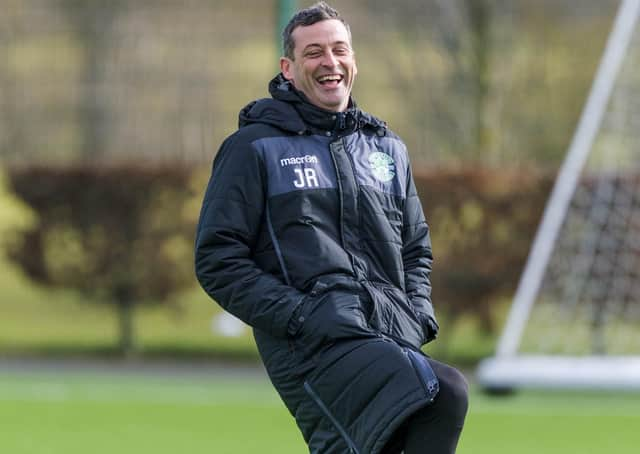 The Hibs head coach insisted football must take second place to the health of the nation and claimed he wouldn't have a problem if that meant big games "being binned" to prevent people being put at risk.
While it has been "business as usual" at the capital club's East Mains training centre as they prepare for the visit of St Johnstone, only a point behind them in the Premiership table, for a match which could prove pivotal to his side's hopes of a top-six finish, Ross admitted this week had been "a little surreal".
Although tomorrow's match will go ahead as scheduled, First Minister Nicola Sturgeon has said she will recommend gatherings of more than 500 people will be banned from Monday, putting a huge question mark on how – or even if – the rest of the football season will be conducted.
But Ross appealed for everyone to show common sense whatever transpires and recognise decisions will be made with the best interests of the general public rather than football.
He said: "Initially, I think there is that selfish thought of, 'we are trying to do well in the league, we are in a Scottish Cup semi-final and we want to play the games'. But as time goes on, I've certainly become a lot more balanced.
"This is bigger than us. I've got a wife, daughters and I can accept that the football side of things is secondary. When you don't understand the severity of it, then you think, 'I don't want this to disrupt the 
football'.
"However, if all those big games get thrown in the bin in order to make sure we'll come out of this okay, then so be it."
The Champions League match between Paris Saint-Germain and Borussia Dortmund in the French capital on Wednesday night was played in an empty Parc des Princes and, said Ross, he would have no problem should that become the case in Scotland.
"Ideally, I wouldn't want it," he said. "I think everyone would say that. The game is different without fans and it is played in a different way. It is not going to be an easy solution for those in charge of football to find because you are not going to please everyone.
"Without a doubt, a game behind closed doors would have a different feel about it. If anyone watched the PSG game, you can see it's different. A crowd being in attendance only changes the dynamics of the game. If that is the only scenario that ensures we can deal with the issue, then I have no problem with it.
"I hope that, at the moment a decision is made, people have the common sense to realise it will be done in the best interests of the general public and nothing to do with football."
While Hibs have not conducted tests among their staff yet, Ross insisted procedures have been put in place, pointing out players are no different to anyone else in that regard. But, he admitted, the very nature of a football dressing room throws up its own difficulties. He said: "The social distancing part of things is very challenging for everyone.
"The hygiene part of it? I don't think that should be challenging. People should have good hygiene anyway and this is perhaps just a reminder that should be the case.
"The hygiene aspect is something we can control but, in terms of proximity between the players, it is very difficult to limit that in a football club because changing rooms are very confined spaces."