Hibs boss Jack Ross wants Scottish Cup success to help shape his legacy as he plots derby glory
There are occasions that can define careers rather than just moments within them. But, only if those involved allow it.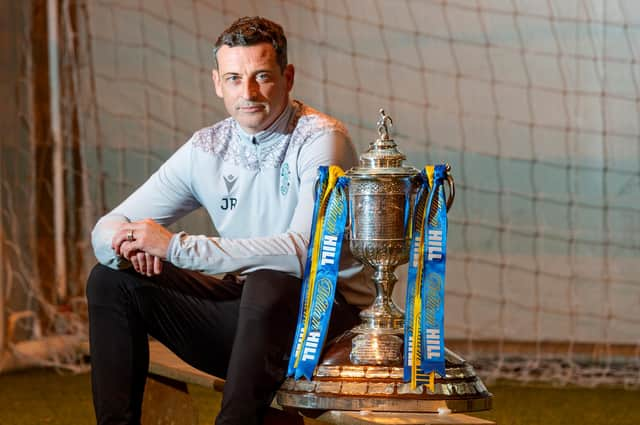 Hibs manager Jack Ross poses with the Scottish Cup ahead of their semi-final derby tussle with Hearts. Photo by Mark Scates/SNS Group
For others, while those highs and lows may force a change in direction, they don't determine the final destination.
Jack Ross has experienced some pivotal moments, as a player, a coach, and a manager but none have defined him. Not yet.
This weekend he heads to Hampden with Hibs, enriched by the experience of two capital derbies. And, with one win and one defeat, he understands the value placed on swinging the balance in favour of Hibs tomorrow as they take on Hearts for a spot in the final of last season's Covid-hampered Scottish Cup.
Viewed as one of the brightest young managers in the Scottish game, he embraces pressure, dispelling the negative connotations in preference of wrangling the energy and using it to his advantage, which is why he has no hesitation in publicly acknowledging targets, of which, keeping alive his dream of winning the Scottish Cup is the most pressing.
"For me, for my own personal targets, I knew it was something we could do as a club, something we could achieve. We set players achievable targets. For me coming into this job, I didn't come here to tread water. I came here to continue to prove myself as a manager and be a successful manager. Winning silverware with Hibs through a cup competition is an opportunity to do that."
No-one needs to remind him that he, of course, came close to that with Sunderland.
Making it to Wembley, twice, on play-off and on cup duty, he was on the cusp of greatness at the Stadium of Light. But a last gasp goal denied him promotion, while a penalty shoot-out foiled his hopes of ending the club's near-five-decade trophy drought. On such moments, careers turn. But, Ross refuses to let them define his. Not when there are still so many opportunities.
"It's like anything, the more experience you gather in any job, the more it helps you. You learn from it. I self-reflect on a daily basis anyway. But those games have helped me enormously.
"Ahead of Saturday's match I feel each and every time you experience a game of that magnitude it helps you. It helps you have a greater degree of calmness in the build-up to it. It makes you understand how to keep your players focused but calm as well. Obviously, that clarity of thought that you need to have through emotional occasions as well, you develop all that.
"It makes you do everything you can to make sure you come out on the right side of the result because the bigger the occasion, the more intense the fixture, the more it hurts, the more it stings. It did on those two occasions so I want to make sure I am part of a group that comes out on the right side of the result at the weekend."
Semi finals are notoriously fraught occasions, when the fear of losing can cripple quicker than the lure of winning can inspire. But, against city rivals they have never before bettered at a neutral ground, and who have bruised and battered the Leith side in their two most recent head to heads at the national stadium, he insists his players will not be cowed.
Bolstered by a positive start to the season at league, cup and international level, he believes he has a squad of players who can put history behind them and deliver.
"I must admit, the experience of losing two finals at Wembley hurt. When you get to that stage you would probably have rather have gone out in the semis! Losing a final on an occasion like that is really sore.
"But, every time you get to this stage of a tournament, whether it is a semi-final or a final, you know you are close and every single person associated with all four clubs, players, staff and supporters, know it is within touching distance.
"When you are that close to anything you don't want to fall short. I will certainly be doing everything I can to make sure we don't this weekend."
Victories in such a fixture can command a place in club folklore for all those who triumph. Those who don't can find it hard to regain the favour of the fans. Intent on steering clear of the latter, he says any reputation gains will be a by-product rather than the primary target of achieving the former.
"Us being successful on Saturday won't give me satisfaction in terms of defining anything about my reputation or my work. It'll be about me taking this club closer to being successful again.
"That's my drive and I have players, staff and supporters who have invested in many different ways this season and a lot of sacrifices have been made along the way and I carry a responsibility to bring success for them
"I have had countless games over different seasons which have helped define my own career path. Alloa reaching the knockout stages of the Betfred Cup, St Mirren staying in the league, St Mirren then winning the title, two games at Wembley that went the wrong way and perhaps defined how my tenure ended at Sunderland.
"But for the here and now this is the most important game because this is the one that will take us closer to winning the cup. In the bigger picture there's been loads of important games but right now, for me, this is the most important because it's imminent."
Want to join the conversation? Please or to comment on this article.