Hibs boss Dean Gibson explains why he wants change of season in women's game
Dean Gibson says lockdown could help women's game make necessary changes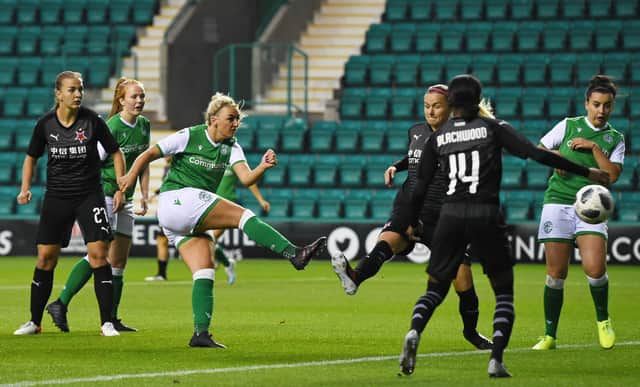 Just one round of games into the Scottish Women's Premier League season when the brakes were applied, Hibs manager Dean Gibson does not believe it is all bad.
Disappointed by the lack of activity since the nation was thrown into lockdown and frustrated by the paucity of information coming from the governing bodies about any anticipated return to training, let alone competitive games, he claims the clubs can still distil something positive from the situation.
He wants the women's game to take advantage of the lull and align themselves even more closely with their male counterparts when football kicks off again.
Desperate to get back into action as soon as possible, he says that with so many months lost to the coronavirus pandemic, ditching the current February to November season for the more traditional August-May term would now be the smart play.
Insisting that as well as making sense from a business and marketing point of view, it would bolster Scotland's hopes on the biggest stages, help entice more fans, make the game even more attractive to the players and bolster retention numbers. He says it will also aid the mental health of those involved by minimising the sacrifices they currently have to make.
"I know it has been talked about and I would welcome that. It needs to revert back.
"I wasn't here when they changed the structure to what it is now but, as far as I'm aware, they did that to create a fanbase so it wasn't competing with the men's game but it is time it moved back, especially with the success of the national team, qualifying for competitions now and our clubs doing better in the Champions League. If we want to support our top players, we have to make sure our season works alongside the UEFA competitions.
"If you look at Glasgow City's position, which could so easily have been Hibs, they are in the Champions League quarter finals. Their last game of the season was in November - in the Scottish Cup final against us - and then they didn't have another competitive game until Feb but then they were facing Wolfsburg. It is asking a lot of them to go into a game that big having played just one competitive game in three or four months.
"If we want to be competing on a European stage, internationally and at club level, and we want to give ourselves the best chance, we need to revert back to the traditional dates for the leagues."
Involved in the women's game for a number of years, having joined Hibs in 2016 and worked his way up through the age group ranks, Gibson was appointed first team manager in January and was excited for the new season but with just one league game, against Spartans, under his belt, he has been left wondering what is next.
Information has been slow to drip down from the top of the game but he says the downtime should have given everyone time to think about the best way forward.
"If we want to take this pandemic and turn a negative into a positive then we should be making decisions that will make our game better.
"So, start our season in August and even if that is pushed back to September then we are only losing one month of the season. I do think it has to happen for the good of the game. It would have been hard to do it at any other time because it would have meant missing half a season but that has now been taken out of our hands and it feels like fate."
Aligning season's would help clubs market season tickets and bolster finances and fanbases, according to Gibson.
"There are so many clubs who are now affiliated with the main football clubs and I am using Hibs as an example. Hibs are up to more than 8,000 season tickets and every time one of those fans come through the door, the club should be asking, 'do you want to donate an extra £10 to the women and we will give you a season ticket for their games as well?' Can you imagine the money that would generate for the women? And it's not just Hibs. Aberdeen, Hearts, Rangers, Celtic, St Johnstone, Motherwell … there are so many teams now affiliated to the big football clubs and we should all be tapping into that.
"A lot of that is down to when our season starts, though. If it was the same time as the men it would be easier to link into season ticket sales or build on the feelgood factor."
Dismissing reasons he has been given for others' reluctance to switch, he maintains fears about pitch availability are red herrings, with much of the seasons overlapping at the moment with no real issues. And the argument of the weather is nonsense, he claims, with teams playing pre-season friendlies in January and kicking off a month later.
The short summer break also limits holiday time, with female players forced to pay £300-£400 more in July than they would if free in June. That prices players out of getting the break they need or leaves them choosing between family and friends and football.
"If we could change that, it would make it easier to attract and keep girls and it would be better for their mental state," stated Gibson.
"I don't know what is going to happen but I'm hoping we do not miss a great chance. I want us to take something positive out of all of this."