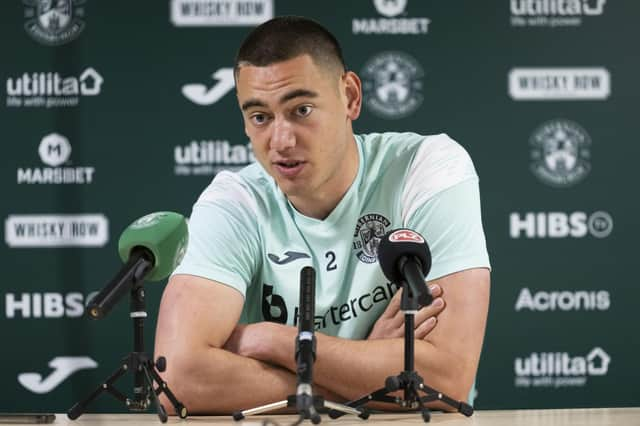 That was half a lifetime ago, but now the Aussie has revived and revised the sentiment, insisting that the capital could be decorated a different hue after the latest tussle at Tynecastle on Saturday lunchtime as the Premiership comes to a conclusion. "We want to turn Edinburgh green," said the Australian Under-23 right-back.
Going into their final league match of the season, hosts Hearts lead their neighbours by two points as they vie for fourth place – the last guaranteed European spot – and city superiority and while Hibs have trailed for much of the season Miller feels that momentum has shifted. Following on from the recent pre-split derby win at Easter Road, the 4-2 victory over champions Celtic midweek has further bolstered confidence, while renditions of Sunshine on Leith after both games simply rammed home the importance of such results to an emboldened fanbase. "Aw man that song gives you shivers," said Miller. "It's one of the best songs I've ever heard. It was surreal and I still think about it. After the Celtic game I couldn't sleep for thinking about it!"
Miller is hoping his performance that night - one of only four starts in his 15 appearances this season - will earn him another start at Tynecastle. "I've come on against Hearts [in April's triumph]. It was the first time I've played them but that was less than 10 minutes, so we'll see what happens. It's the gaffer's decision at the end of the day. But I'll give 110 per cent.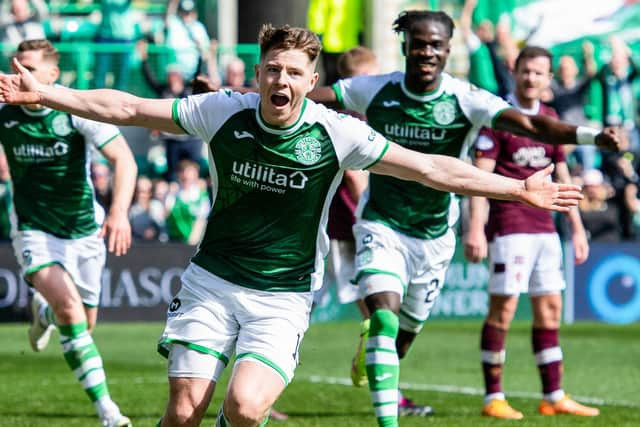 Miller's first season in Europe has been a transitional one, where the 22-year-old has had to settle into a new country, adapt to a new style of play and deal with injuries which have kept him on the sidelines. While he had hoped for more game-time, he has been paying attention and is in no doubt what is needed on Saturday. "I'm Hibs so I've got to beat Hearts – it's written in the rules isn't it? Hearts have been doing quite well but we are turning heads now. We're ready to overtake them in the table and hopefully with European football as well."
Back when Black personalised his white T-shirt, Hearts were dominant in head-to-heads and it had been the same again until Kevin Nisbet netted the only goal in last month's encounter. Miller wants that to be more than a blip in the stats. "I trust this team and the ability we have. We are ready for the next stage and the next level. The better we play, the better we feel and the better the fans feel. That's what it's all about."
Former team-mates of Hearts duo Kye Rowles and Garang Kuol, he has also played against Jambos Cammy Devlin and Nat Atkinson and they helped him settle when he first arrived in the capital – but sentiment goes out the window now. While they have already caught the eye of Socceroos manager Graham Arnold, Miller is still waiting. Helping Hibs to finish ahead of them would not harm his cause, though, an added incentive as he strives to leave Hearts feeling green.