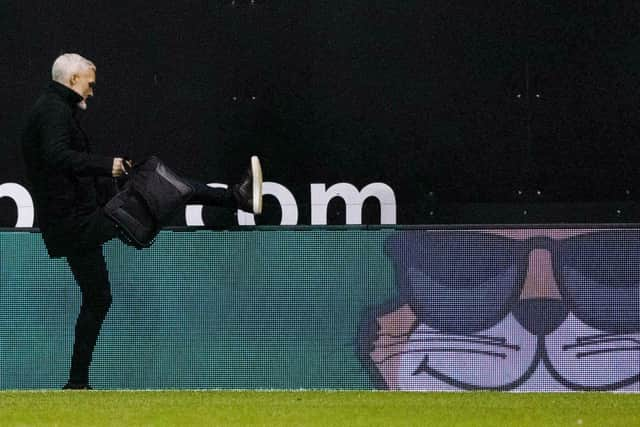 Player responsibility
The responsibility always lies with the manager in the end, in this case Jim Goodwin. He is the one who picks the players, puts them into a system and comes up with a game plan – at Easter Road it appeared to be give it to Duk to run up the pitch. Aberdeen chairman Dave Cormack came out and took the responsibility for the position the team are in onto his shoulders. But an expensively-assembled Aberdeen squad should not be made to forget an absolutely embarrassing and pitiful display – perhaps one which was worse than than that delivered to lose to sixth-tier Darvel. It's not about singling out individuals, this was a collective failing. A performance without personality and character. Lacking any sort of professional pride. It was a performance which was devoid of any positive trait. That should worry any new manager coming into the club.
Goodwin sympathy
It may be the abiding image of Goodwin's reign, stepping over an advertising hoarding which displayed a sunglasses-wearing cat with a smirk while players underwent their cool downs. The former St Mirren boss was an easy figure to like so there was sympathy with the way it ended. But it had to end. From the Andrew Considine farrago to steering Aberdeen to tenth in the cinch Premiership last season and then the more recent debacles. He spoke of defence being the easier aspect of the game to solve, yet Aberdeen currently have the worst defensive record in the top flight. He was allowed to live another day in the job after the Darvel defeat but Easter Road was a step too far.
Recruitment question
Aberdeen had a big undertaking in the summer to revamp a squad which had too high an average age and lacked pace and dynamism, especially in the front areas. Yet, when you look at the bench and those who missed out entirely there was an awful lot of money not or barely used. Vicente Besuijen, Jayden Richardson and Shayden Morris weren't in the squad, while Callum Roberts was a second-half substitute. Defensively, Goodwin used Jonny Hayes at left-back with Hayden Coulson having regressed alarmingly then Ross McCrore, who started the season in midfield, was at right-back. Messy.
Some people – not naming names – may have had Aberdeen on their coupon. That was more down to Hibs having lost Ryan Porteous and with Kevin Nisbet on the bench after his move to Millwall didn't go through. It, at first glance, wasn't an XI which inspired too much confidence. Yet, players stepped up. While Liam Scales appeared lost at sea up one end, Will Fish showed himself to be a strong swimmer up the other. It was his best showing in a Hibs jersey and it was the same for Elie Youan and Harry McKirdy. They appeared to thrive with the responsibility and expectation to create and score. Then there was Josh Campbell. He could become the Easter Road talisman. Lee Johnson called him "perfect". With the right direction he could easily be a 10-15 goal a season midfielder breaking from deep.
Fourth is up for grabs
Such is the precarious nature of the Scottish Premiership, one week the focus is Europe, the next it is the fear of relegation. Hibs are far from the finished product but they do, when it clicks, have quality. If they keep Kevin Nisbet he can fire the team to fourth, if they don't they will require greater consistency, both individually and collectively, and some late transfer additions. But they now need to win at Ross County or at the very least not lose, a stretch of positives results, momentum builders, will see the team there or there about.
Nisbet's ambitions
The striker is better than Millwall. His movement and his finishing are excellent. He's added real presence in terms of his shape and physique. He should be aiming for more than a middling English Championship outfit. There was also an amusing and nice moment when one young Hibs fans ran the length of the pitch ahead if Josh Campbell's third from the penalty spot just to have a chat with the striker.