'He's exactly the same. Annoyingly the same': Tributes to Lewis Stevenson as he stands on cusp of another Hibs milestone
Long-time friends and colleagues, Paul Hanlon knows Lewis Stevenson as well as anyone.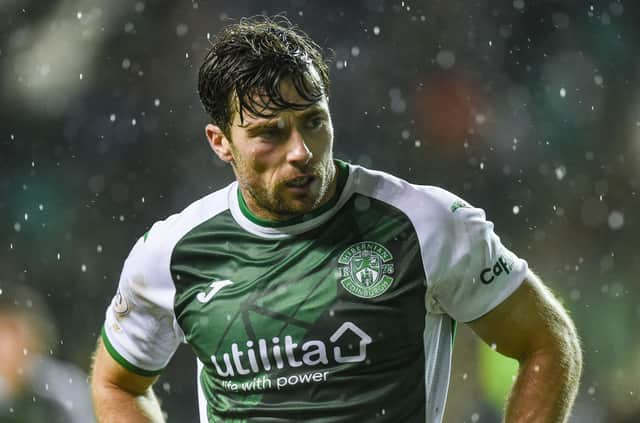 "And you're probably better off talking to me about his attributes because he's never going to talk about them!" acknowledged the Hibs club captain, demonstrating that fact.
A humble man, Stevenson is the master of self-deprecation, but if the 35-year-old plays against St Mirren this afternoon he will secure another paragraph in the club's history, claiming Hibs' all-time record for league appearances. He moved level with Arthur Duncan on Wednesday, but 450 appearances would see him take the honour outright.
"It's an incredible achievement," said Hanlon. "And, he still has plenty left in the tank as well. He's not showing any signs of slowing down, he trains every day, he doesn't ever moan about being sore, while I'm walking about struggling! He's so fit and still doing well week in, week out.
"He's been first class his whole career, so it's nice to see someone like that get the record," added the central defender, who is on an impressive 418 appearances but, at 33 years old, he knows it will not be easy to match his pal's haul. There's not even any point trying to wipe him out to try and catch up! I have a couple of years on him but I have a much worse injury history. I'll try and catch up but I think it will be a tough task, to be honest".
The duo, who have joined forces off the pitch as well to run the Hanlon Stevenson Foundation, have enjoyed success and silverware at Hibs but they have also had to weather a few storms, win over several managers and see off all-comers. "There have been times when managers have come in and signed left-backs and it's looked like he might not play," said Hanlon. "You think he might fall down the pecking order but he never does and there's a reason for that – he plays so well and is so consistent. He works hard every day, he's exactly what you'd want if you're a manager.
While most players ease off or opt to take a step back as the years creep up on them, Stevenson can still be seen bombing up the left flank or, in recent times, even moving into the engine room to provide defensive cover in the heart of the midfield. "At 25, 26 [years old] it's not an issue to move from left-back to centre mid, but at 35 it could be," explained Hanlon. "But it's not for him at all, fair play to him. Sometimes you watch him in there and think he could have had a real top career as a centre midfielder. He's aggressive, wins the ball back, plays it forward."
And, the hunger, the work ethic have not dissipated, and his personality and demeanour remain as laudable "Honestly, I would love to tell you something but I literally have nothing," added Hanlon. "He's exactly the same. Annoyingly the same. He gets his work done, he doesn't cause any hassle and works as hard as he can. That's him and he gets the rewards for it."
After a difficult period, Hanlon hopes that the whole squad can now start gleaning the rewards for their efforts and prevent Stephen Robinson's St Mirren team and Livingston edging further ahead of them when they meet in Paisley today.