Fuming Hibs boss Lee Johnson takes aim at officials and VAR after 'frustrating' Ross County leveller
Angry Hibs boss Lee Johnson says he has lost faith in match officials, believing that a VAR blunder cost his side victory in Dingwall and fourth place in the Premiership.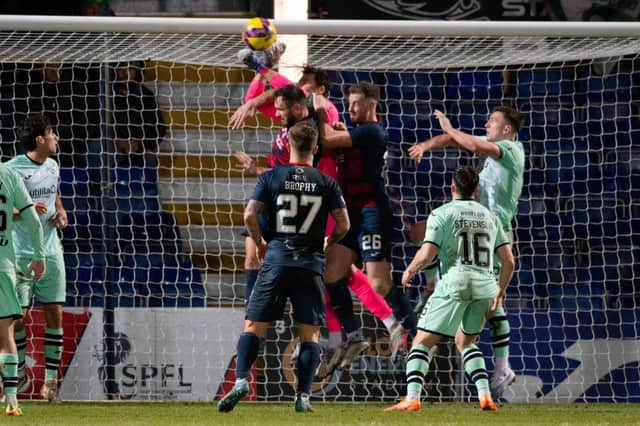 And, he claims that it is about time that the nation made a move towards professional referees in a bid to improve the quality of officiating in the county.
Annoyed that neither referee Graham Grainger nor those handling VAR ruled off Yan Dhanda's 73rd-minute equaliser after Hibs goalkeeper David Marshall was bundled into the net, the away gaffer said that he was frustrated but not surprised. "In my opinion VAR has let us down again," Johnson said. "I'm really disappointed with the quality of what's gone on so far this season with VAR and it's cost us. It's a foul, especially in the wind, when the wind is going towards you, you can't be bundled into the goal by two players and it not be a foul. It's frustrating, but it doesn't surprise me."
Johnson had been an advocate of VAR before the technology was introduced into Scottish football but like many in the game he has been left bemused and irritated by the way it has been utilised. "I don't understand it," he said. "I think VAR has been really poor so far. I don't like it, I don't trust it, I don't trust the handball situation, I don't trust the likes of today and I haven't enjoyed it."
Johnson said he had sought some clarity from the match officials, as he bemoaned the fact his team, who had taken a 32nd-minute lead, were denied the chance to leapfrog Livingston and move into fourth spot. "I spoke to the referee because I want to know who's doing what job and in the end they're both doing the same job," the Englishman continued. "For me it's important that we get more professional refs here. In England there are a lot more professionals full time where they learn and they watch and they play and they understand what a foul is and what a foul isn't and for whatever reason we've been caught short. It's frustrating because it's cost us fourth. The positive is we've gone four unbeaten in the league which is quite good after our bad run but I wanted another three points tonight and I wanted to be fourth."
And, while Johnson was irritated with officials, he was also irked by his players' inability to put the match beyond their hosts. "I'm angry, that's my natural instinct after the game," continued Johnson. "I felt in the first half we had a lot of control and deserved to be 1-0 up, although maybe not with as many shots as I'd like and I know you've got to score two or three goals at a place like this in conditions like this. We had the opportunity to go 2-0 up in the second half, I think three or four of the lads had a go at it, but I just thought we were sloppy in the second half. The conditions were horrendous – 40mph winds, boys trying to clear it and put their foot on it but you feel like the gusts are taking you back to your own goal. I've played in a lot of games like that and they play a style that makes you defend."