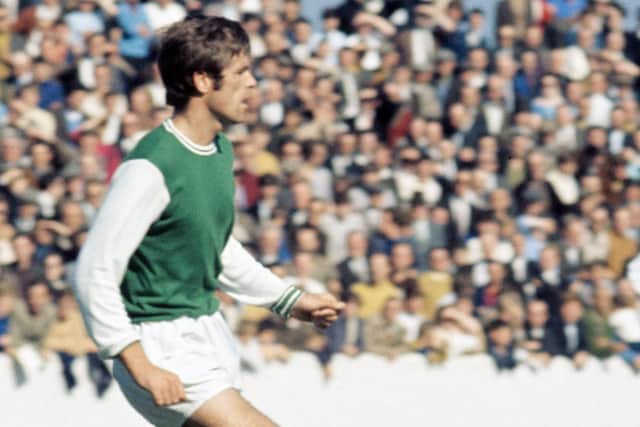 Pat Stanton, seen here in action during the 1968/69 season, knows only too well the impact fans can have on players
Former Hibs captain Pat Stanton is hopeful supporters will be allowed back in stadiums soon – to avoid matches feeling too much like meaningless friendly games.
The Easter Road legend, who played in front of raucous home crowds of 36,000 against Leeds in November 1973 and 29,000 against Juventus the following year in the UEFA Cup, is only too aware of the positive impact fans can have on players and teams during important games.
Leagues in countries such as England and Germany that were paused as a result of the coronavirus pandemic have now been restarted, but without fans on the terraces – and Scottish football is set to follow suit when the Scottish Premiership gets back up and running on 1 August.
Although some clubs have taken to placing cardboard cutouts of supporters in the stands in a bid to lessen the effect of empty seats, nothing can replicate the real thing, according to Stanton.
"It's going to be very, very difficult for the players without any of the supporters in the stadiums," he told the Evening News.
"I think what we're seeing with some of the matches played down in England that have been on the telly – some of the games look almost like they are just friendly games. There's no atmosphere, none at all.
"The noise and the atmosphere that is created by the supporters adds to the whole matchday experience. It really is the crowd that makes it."
Stanton firmly believes that the fans are the most important part of a club, and is looking forward to seeing Easter Road packed out with fans in the not-too-distant future backing the team on the park.
"At the moment, playing these games without fans is almost like going along to the Usher Hall to see Frank Sinatra in his heyday, and there only being two people in the whole of the front row," he said.
"Having no fans in the ground just isn't the same as having the whole place full to the gunwhales. The fans are vital and their backing is so important for the players."