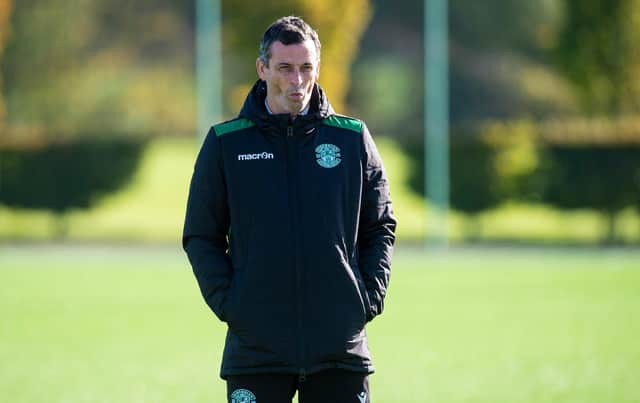 Hibs manager Jack Ross.
Scotland's Under-19 match against England was abandoned just before the halfway point after the Scottish FA received notification that manager Billy Stark has tested positive for Covid-19.
Stark was immediately separated from the players and the teams told to stay on the pitch as safety protocols were initiated. But the entire squad, including Hibs full-back Josh Doig, have now been told they must self-isolate.
That would rule the teenager, who broke through into the first team this season, out of club action until the away trip to Kilmarnock on October 24.
The Capital club are challenging that ruling, with Ross insisting it contradicts earlier advice, when teams such as Hibs, Hamilton and St Mirren were instructed to isolate individuals rather than entire squads and fulfil fixtures.
"I don't think people in call centres are being tested twice a week," said Ross. "We can't be different when it suits, but then the same when it suits. That is the frustration I have had with it and I think there are a lot of people in other walks of life who are starting to get to the same stage.
"There is a lack of consistency and a lack of clarity and that is what causes people frustration and this is just another example of it for us.
"Our medical team has been in dialogue with the SFA and we are awaiting further guidance about whether he is allowed to come out of isolation and the other members of that squad as well.
"There was a time when I got quite uptight about it, but what can you do? We have got to follow the information we are given, but at the moment that is contradictory to how we had to work in the past, following Alex Gogic's positive test.
"There have been examples throughout the league and with other national teams, so, it is slightly surprising for us at the moment that everybody in that [U-19] group has been placed in isolation, but we will await further news and hopefully it will be positive news."
Similarly strict rulings saw Celtic midfielder Ryan Christie and Arsenal left-back Kieran Tierney placed in 14-day quarantine when their Scotland team-mate, Stuart Armstrong, tested positive for the virus after reporting for international duty.
It meant they were forced to sit out the crucial play-off match against Israel, and will miss the upcoming Nations League head to heads with Slovakia and Czech Republic. They will also have to sit out club matches, prompting fury, and Ross, who has another four players away on international duty, says he can understand why some clubs will think twice about releasing players for future camps.
"It is something we have never, ever given thought to and I would never stop any of my players joining up with their country but, now, there is obviously concern there. Paul [McGinn] will now join up with Scotland and what if there is another instance and we lose more players?
"They don't teach this in coaching manuals! It might need a new module, but I'm not teaching it!"