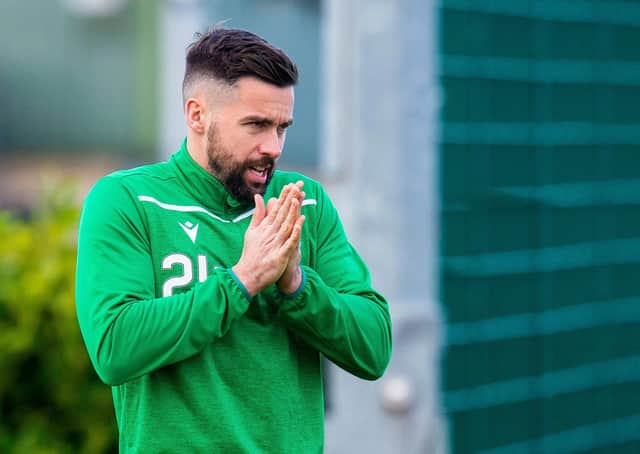 Never one to shirk a challenge, Hibernian defender Darren McGregor says that tackling household DIY is proving testing but it is the psychological battle that has been more bruising.
"This is new to me, just like it's new to everyone else," said the Easter Road club ambassador, "so it's just about trying to keep busy. I've been going out every morning for my one hour allocated exercise. That gives you a purpose and keeps you ticking over.
"I'm learning a lot about myself and my family, which is nice. The upside is you get to see the kids a lot more, although I'm being put to work around the house, hanging pictures and doing other bits of DIY – even though I'm the worst DIY guy you could ever meet!
"When this all kicked off, this was just like a break. A bit of time around the house. But as the weeks go by, you lose a bit of that professional focus. Of course being a dad, a brother and a partner is the most important thing, but in terms of your work, it takes away a bit of your purpose. That's tough.
"I feel really fortunate to have a family to support me during isolation, but you can see why some people would get down and it's not as easy as some people might have imagined it would be.
"The uncertainty is the thing that plays with your mind. If you were told a rough date then that gives you something to aim for but, at present, we are in a strange predicament where we don't know whether the season will go ahead or be scrapped, or if reconstruction will come in. It's a waiting game."
The club have worked hard to prevent the mental angst, pulling together, albeit online, to navigate their way through such unprecedented times.
"Hibs have been really good by setting up a social club on Zoom and keeping everyone together in WhatsApp groups. That's not for everybody.
"Some people are absolutely fine in their own company and aren't too fussed, but other guys maybe have different personalities and Hibs have made sure they let everyone know that someone is on the other end of the phone, if they need it," added McGregor.
"We have a WhatsApp group that includes everyone from [owner] Ron [Gordon] to the physios and youth team so we still have that feeling of being connected."
But the day to day is different, with fitness work undertaken alone and the idea of a fun kickabout, let alone a league or cup match a distant dream.
"It's not just meeting the lads you miss. It's the competitive aspect. Having a good days training, winning the five-a-side game and knowing you had a really good day. You miss working hard at the gym and the endorphins that come from that.
"When you take that away then it can be a bit challenging and I can imagine for some, especially those on their own, this could be a bit harder."
Five-year-old son Max is offering some competition, though and ensuring that regardless of the shutdown, football remains a big talking point. McGregor added: "It would be silly to lie and say every minute has been a bunch of roses. The situation comes with its challenges and pitfalls, when you have three kids [six month old Ray, Miah, six, and Max] and you are getting on top of each other. But it's been exciting as well.
"My partner [Erin] has taught my daughter how to cycle without the stabilisers, so she's been whizzing about outside the front of the house and my wee man, Max, is just mad about football so he's easy to keep entertained.
"I think he's better with the ball at his feet than me already! He just loves it. He's got about six different strips and a pair of football boots that are miles too big for him. So he's running about with them flopping about in front of him.
"I've already said to him 'you're playing for Hibs when you are older'. He's started to believe that as well. It's incredible to see the enthusiasm he hase. I can never remember being like that, even when I was five or six. But he has that appetite and he's always kicking a ball or talking about it."
But while organised football takes a back seat, McGregor has been happy to see the NHS placed on a pedestal and is delighted that he and his team-mates will wear strips emblazoned with "Thank You NHS" when football does resume.
"In the dealings I've had with them, through the birth of my three kids, they've been excellent. As a footballer, the treatment after doing my cruciate was vital in me getting back. This has just shone a light on the amazing work they do. They deserve all the plaudits they are receiving."