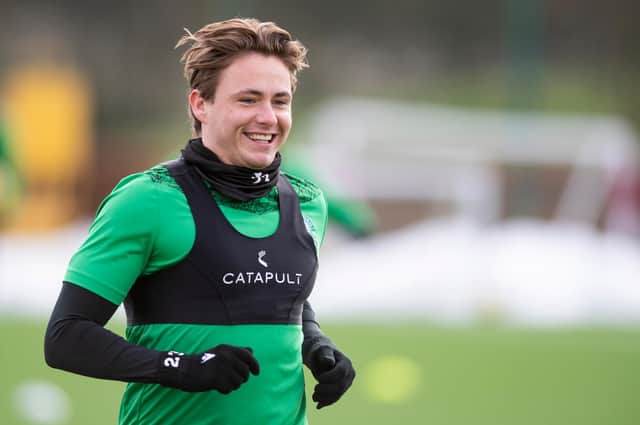 Hibs midfielder Scott Allan's mental fortitude and determination to overcome obstacles should be applauded. Photo by Mark Scates / SNS Group
It is also wrong. Like people in all walks of life, there are some who struggle to contain their selfish and/or stupid streak – as the recent lockdown misdemeanours of a handful of Rangers players suggests – but they are the minority and while their reputations have been sullied, their club and their fellow professionals should be spared the indignation.
Instead, we should be shining a light on the plentiful supply of role models and wishing them well.
The fact the public may have to dig a bit deeper to find them should not be taken as indication of their rarity, instead, it has more to do with the individuals' desire to quietly get on with things minus fanfare and plaudits.
Yesterday, another stepped out of the shadows.
In an emotional and inspiring interview, Hibs' Scott Allan opened up on his struggles with a heart condition that has sidelined him since August and threatened to end his playing career.
As well as the support of his family and friends, he spoke of the humanity of the Easter Road club, and the way staff and team-mates rallied around him as he tackled one of the toughest periods of his life, let alone his career.
As he came to terms with being diagnosed with hypertrophic cardiomyopathy, he showed courage and tenacity as he fought for what mattered, refusing to accept the initial prognosis that called for an immediate end to his playing days, and instead sought a second and third opinion.
A thickening of the walls of the heart chamber, the condition makes it difficult to pump blood in and out, particularly during intense activity, and causes fatigue and dizziness.
That impacted performances early in the season as he looked to build on last season's tally of 10 goals and 11 assists in 40 appearances.
But, having plunged the emotional and physical depths, the 29-year-old playmaker found the fortitude to battle back and has come through the other side. And now he wants to raise awareness and minimise the risk of others paying the ultimate price.
Waiving the right to privacy that had, quite rightly, been respected by those at the club and the media, the former Celtic player said he would like to see widespread screening to protect players who are unaware, as he had been, that they have the condition.
For them, he is an example of how they can continue to live their lives with the correct support and mindset.
The same could already be said for those, especially football-mad youngsters, living with diabetes. Forging a career in the game in such circumstances will not be easy but he has shown them it is possible.
Those who castigate footballers forget that top level contracts have to be earned and natural talent needs to be backed up by dedication, graft, enthusiasm, sacrifice, metal resolve and an ability to overcome challenges.
So, let's not focus on the exceptions to the rule. There are plenty of positive role models out there. Scott Allan is one of them.
A message from the Editor:
Thank you for reading this article. We're more reliant on your support than ever as the shift in consumer habits brought about by coronavirus impacts our advertisers.
If you haven't already, please consider supporting our trusted, fact-checked journalism by taking out a digital subscription.