Christian Doidge and Lee Johnson discuss striker's future after two goals in two games
Christian Doidge is adamant he wants to remain at Hibs and the striker sees no reason why that shouldn't be the case after scoring twice in two starts already this season.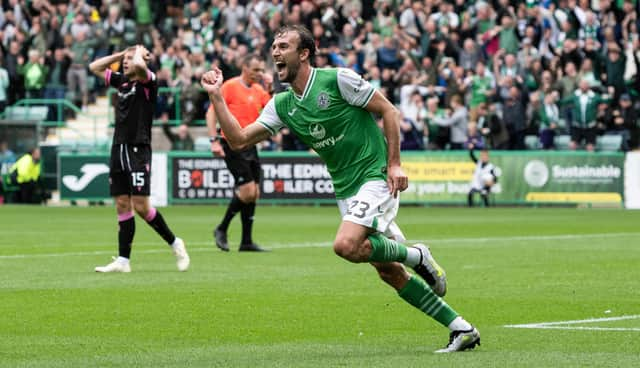 The 30-year-old spent last season on loan at Kilmarnock and has been linked with further moves away this summer, but with Hibs waiting for international clearance for new Dutch striker Dylan Vente, Doidge has taken the chance to re-establish himself in Lee Johnson's side.
Although Hibs have lost two of their opening three games, including Sunday's last-gasp defeat to St Mirren, Doidge has been a ray of light while leading the attack. He scored an overhead kick last week against Andorran side Inter Club d'Escaldes and as well as scoring Hibs' short-lived equaliser at the weekend, he set strike partner Adam Le Fondre up for his first goal for the club with a measured pass.
Asked if he still expected to be at Hibs come the end of this transfer window, Doidge stressed that he did – and he had no reason to depart. "I've really enjoyed being back," he said. "I love playing for this football club. "I've obviously started the first league game and played 45 minutes and 90 minutes in Europe, so I don't think there's any reason to leave, to be honest."
He is not resting on his laurels, however. Asked if he had proved his worth to Johnson, he replied that he wouldn't go as far as to say that. "I've still got plenty to do," he added. "Obviously I want to prove a lot of people wrong every single day I'm training or playing. It's not really about that. I'm just trying to play well and help Hibs to be as good as they can be."
Johnson confirmed that he too expected Doidge to remain at Hibs, where he is contracted until the end of the season. "We have had very honest conversations all the way through," he said. "I feel like he's been very strong in wanting to stay and that's his prerogative."