Back in January, it was his own players who bore the brunt of that when they lost out 3-0 to their derby rivals with a performance that prompted their gaffer to state he was "sick to death of the mediocrity" and then sign off on more than a dozen squad members being shown the door.
This time around, promising there will be no signs of timidness in the way his team attack the last day shoot-out for fourth place and a guaranteed stab at European qualifiers, he is also ready for whatever passion may boil over on the touchline as he comes face to face with Hearts' interim boss Steven Naismith.
Two competitive and animated characters, they have met on the pitch before but Saturday will be a different proposition.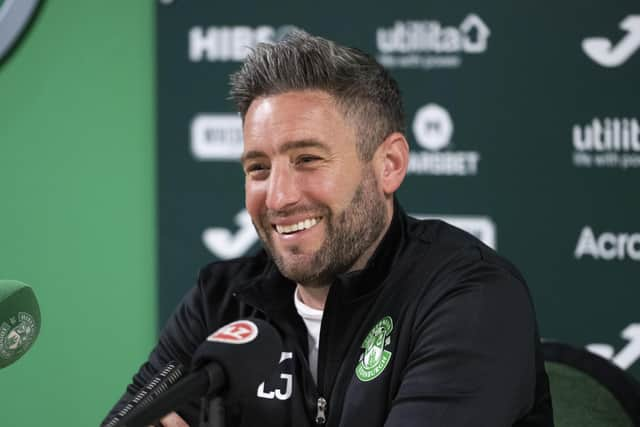 "I don't mind, I'm fine with that! My bookings and disciplinary record would suggest that," joked Johnson, who has had a few run-ins with officials and managerial counterparts throughout his career. "I'll be honest with you, that technical area is wild. We're all loose cannons at that point. Everybody wants to win.
"It's strange, isn't it? A man being stood in a little cage and if he steps out of a white line another man drags you back in or books you! Obviously both benches will be competitive and I don't think anybody will stand down in a game like this."
Looking back, the decision to call out deficiencies in January helped kick-start Hibs' climb up the league table. Back then his men were sitting in eighth, five places and 11 points behind their Edinburgh neighbours. Now, they head into the final day just two points behind, with fourth place the prize should they conjure up their first Gorgie win since 2019.
"I think sometimes as a manager you have to show your teeth. You can't mollycoddle and be nice and not put demands on people. Respect is obviously key but sometimes you have to say: 'Look, the club has fallen short'.
"And, really, the players were falling short, not so much in training with their effort and their professionalism but in terms of taking that across the line. Part of it was psychological, part of it was culture, and we had some big injuries but, obviously, now we are in a much better place than we were then. Everybody's committed, including the players.
"When we let 14 players go in January that was part of the malaise around the building I talked about. Now that's not there, this is a vibrant club with a culture where people come into work to improve.
"The run we've been on over 15-20 games has been consistent in my eyes, in terms of performances. Naturally, you have peaks and troughs but we know our system, we know our shape, we have young players developing all the time."
At one stage, there were some suggestions that Hibs could be dragged into the relegation fight or that Johnson's job was on the line but, he says, there was always another game around the corner. Not this weekend, though.
"Having to navigate the narrative, the pressure, the belief and maintaining that calmness and belief in what we're doing - all these little dynamics I've really enjoyed."