Brian McDermott says Celtic role prepped him for Hibs - 'all the players you see playing for them now, I watched'
Hibs' new director of football Brian McDermott played a role in scouting many of the current Celtic stars but now he wants to use his contacts and expertise to help the Easter Road side flourish.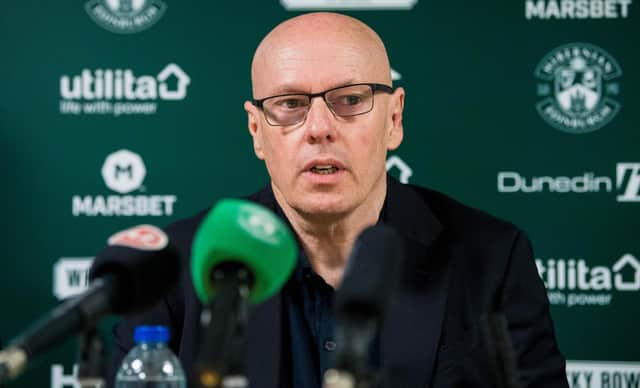 The Leith club have appointed the former Reading and Leeds United boss to oversee the recruitment of players, scouting, analysis, sports science, and medicine, as well as ensuring a player pathway through the academy and into the first team. Brought in to work closely with manager Lee Johnson and academy director Steve Kean, McDermott – who amassed over 300 games as a player and almost 500 matches as a manager – says he is excited to have the opportunity to utilise all his experience in a environment he knows well from years trawling Scotland for football talent.
"I've scouted in this country many, many times," said McDemott. "I've scouted at Hibs, I've watched Hibs-Hearts games. I was at Arsenal for a long time, looking at players all over the world. I was at Celtic and I did a lot of video scouting, after Covid. I did it quietly – and all the players you see playing for them now, I watched. There's some good players they didn't get, that they didn't manage to quite get over the line, as well. So, I know this market really well, I know the country, and I know how it all works as far as scouting is concerned."
As a player, McDermott started out at Arsenal and also played for Fulham before moving to Sweden, and later, Hong Kong. After managing in the lower leagues, then took the chief scouting role at Reading in 2000, and coached at youth and reserve team level before stepping up to manage the first team following Brendan Rodgers' departure in 2009. He got the team promoted to the top flight in 2012. Since then he has managed at Leeds United and scouted for The Gunners and Celtic, while also taking on a mentoring role through the League Managers' Association.
"I have had a grounding of Scottish football since 2000 because I was coming to games," explained the 62-year-old. "We always had a scout up here when I was at Reading, when I was at Arsenal. I would come here at weekends and watch games. To do that bit at Celtic was important to me as well. I was scouting everywhere. It was to filter out all the players in the world, to find the best we could. We did it in Scotland as well and I still have relationships with the scouts I used to work with."
McDermott is ready to hit the ground running and has already had meetings with Johnson and the club's head of recruitment Ian Gordon as they make plans for the summer transfer window. "For me the most important thing is Hibs," he added. "Let's try to bring the best players here that we can."
Chief executive Ben Kensell declared himself delighted with the appointment of someone who has worked across numerous roles on the sporting side. "We wanted someone that has a strong recruitment bias, and he has that in abundance having scouted across the world for some high-level clubs," Kensell said. "Brian's background, contacts, and experience will be vital as we continue to move the club forwards."