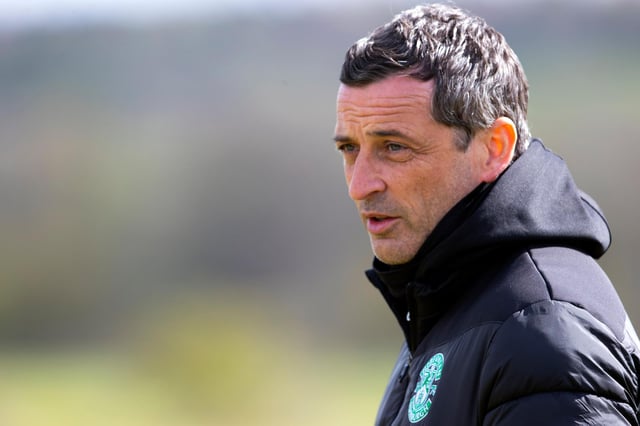 Hibs manager Jack Ross says no-one should have to accept online abuse and wants to see tougher punishments introduced for those who overstep. Photo by Alan Harvey / SNS Group
Like so many clubs and organisations this weekend, Hibs' social media platforms have fallen silent in the hope of sending a message that is loud and clear.
And, while he understands the reasoning behind the collective stance as those involved attempt to raise awareness, Ross says it will never amount to a widespread change in behaviour unless more stringent measures are taken to punish posting the bile.
"The only way we will ever have any real action taken is if we're in a position where those platforms are regulated and people who come outwith that regulation are punished," said Ross. "It's the only way anything will change, in my opinion.
"Raising awareness of it and trying to educate people further is important. But until we make people accountable for using these platforms and punish them for behaviour that goes way beyond acceptable, I don't think it will make any difference.
"That's something for people with powers way beyond me to look at. I certainly think we need to get to that stage because if you are able to do that kind of thing anonymously, without fear of punishment, losing your job, a criminal record, whatever it may be; embarrassment, shame, then people will continue to do it.
"That's where we need to get to."
Adding that, wrongly, it has almost become part of footballers' jobs to simply accept the abuse poured onto the pitch on match days by the small-minded minority but he said the pervasive negativity of social media had heightened the problem and elevated it to a level that can no longer be tolerated.
"There are undoubtedly things that happen in a football stadium that would be unacceptable in any other walk of life or on the street," said Ross. "But I think it is important to recognise that it is almost always a minority. The vast majority of people who love football, who go to football stadiums, know how to behave properly."
The obvious lack of accountability means that attacks on social media can be unrelenting and while falling silent for a weekend raises awareness, it is not the long-term solution.
"I'm not really an active user of social media but I recognise the importance of it in people's lives and the influence it has professionally and across vocations. It can be brilliant in terms of the information that's available on it, the insight it gives you into people, the platform it gives for opinion and debate.
"And also how it allows people a form of interaction they might not always get from their own social life or circumstances. So there are a great deal of positives from it.
"But at times it is a real vile platform as well, some of the stuff that is articulated on it, and I am not just referring to religious or racial abuse, if you asked some of my players about stuff they get sent about themselves or their families it's way beyond the pale.
"And, the only way to alter that is to ensure accountability and visibility of the people who are using it."
A message from the Editor
Thank you for reading this article. We're more reliant on your support than ever as the shift in consumer habits brought about by coronavirus impacts our advertisers.
If you haven't already, please consider supporting our trusted, fact-checked journalism by taking out a digital subscription.