Aidan Smith: If Hibs fed Derek Riordan's hair into a computer to produce Harry McKirdy they forgot the goals
He arrived like a pop idol. Edgy dance beats, a swirl of dry ice, back-to-front baseball cap, voluminous breeks and the throwing of shapes not usually seen in the SPFL. Had Hibernian just signed Justin Bieber?
Not quite, but the Hibees were clearly so beside themselves with excitement about Harry McKirdy that they dispensed with the MDF desk and the official club biro, the usual props for welcoming a new recruit.
McKirdy was a striker crying out for a song. How about Donovan's "Hurdy Gurdy Man"? That would echo Easter Road heritage, given that the same 1960s hippy troubadour's "Mellow Yellow" was reworked in praise of Peter Marinello.
A line in "Hurdy Gurdy Man" goes: "Histories of ages past." Yes, yes, Harry can scamper and thrill just like Peter! Here he comes, "singing songs of love". Better still, scoring goals of love! Ach, but Hibs' Hurdy McKirdy Man couldn't score.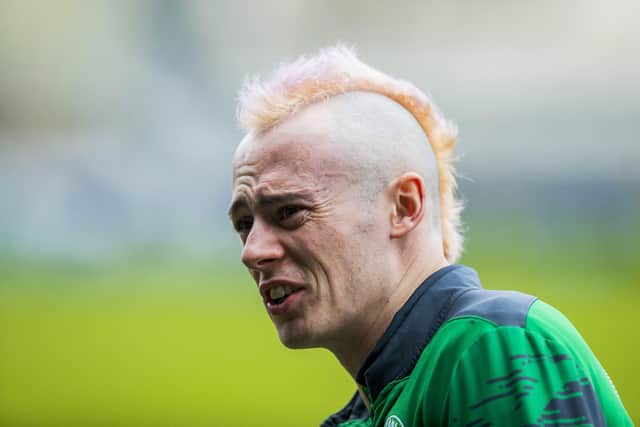 Going far beyond the call of duty, one fan totted up his time on the pitch: "23 games, 754 minutes, 0 goals, 0 assists." The tweet landed within minutes of the news that McKirdy was expected to be leaving Leith. This supporter must have been carrying the info around with him. Many shared his frustration.
Yet some, when it came to Harry, were still "beliebers". As soon as the line-up dropped and the player wasn't starting, which was standard, there would be messages like "Unleash McKirdy" and "Release McKirdy", although I suppose the latter could have been interpreted in different ways.
All supporters want their new boys to succeed and no one wants them to figure high in polls for the worst signing of the season, the fate which for 2022-23 befell the Hurdy McKirdy Man.
Hibs haven't had much luck with some of their forwards recently, in contrast to the success stories of Elie Youan and Kevin Nisbet. Along with Harry those polls featured Jair Tavares, a player with his own musical connotations, "Don't Take Away the Music" and "Heaven Must Be Missing an Angel" being big 1970s hits for disco act Tavares.
Previously, there was Chris Mueller, the American who was going to make the Easter Road faithful forget about Martin Boyle. Chris, the fans learned during a long countdown to his arrival, liked owls. Maybe they wondered: can this guy also swivel his head through 360 degrees? That would be useful for a forward. Alas this Mueller was no Gerd and is now back in the States.
Back to Harry. Those aforementioned stats don't quite tell the whole story of his time at Hibs, if it's to come to an end, or rather they don't relate the sole narrative: his hair. The Hurdy McKirdy Man switched styles many times, each more outrageous than the last, finishing up with a mohawk of a suspiciously maroon hue. Presumably he never went into the salon asking: "I want a haircut that people will talk about when they see me on the bench, before I get on for the last five minutes." If you're going to draw that much attention to yourself then you really need to be scoring.
McKirdy was signed just a few weeks into last season with Hibs manager Lee Johnson under some pressure from the fans following a dismal League Cup exit. With the transfer window about to shut, a signing was needed to excite the support. Was there someone out there who had outrageous hair like Derek Riordan and wore his socks round his ankles like Jason Cummings? Oh yes there was. Did Hibs feed these characteristics into a computer and come up with the Hurdy McKirdy man? Surely not. Sadly for Hibs and Harry, he doesn't have the goals of either.
Generally for Scottish football there can be a sense of smug satisfaction when players from abroad or England's lower reaches fail here. It encourages us to think our game isn't as bad as sometimes painted (by others but also ourselves). When you're preoccupied with your own club, though, this is of little consolation and Hibs require another good transfer window.
We're all experts up in the stands, of course, but at first glance even the most ardent happy clapper would struggle to produce evidence that McKirdy and Mueller were cut out for Scottish football. An excuse often used is that players take time to adapt to new clubs but supporters must be tired of hearing it. And Hibs supporters, if they're old enough, will point to the examples of Alan Gordon, Joe McBride and - second time around - Joe Baker who began scoring right away and never stopped.
Signing the right players is not easy. New territories are worth exploring. But here's a stat of which all Hibbies are proud: eight of the side which started the 2016 Scottish Cup final were Scots, joined later by two more.
By the way, best of luck to those who've come and gone. None of you were as bad as Rowan Vine.
Comments
 0 comments
Want to join the conversation? Please or to comment on this article.