Why Hearts fans should welcome expected Steven Naismith appointment – and not just for getting under skin of Hibs rival Lee Johnson
In the wake of Saturday's derby draw, Hibs boss Lee Johnson did not skirt around the issues he has with his capital counterpart, having a dig at Steven Naismith at the side of the pitch and then following that up with a verbal swipe in the press room.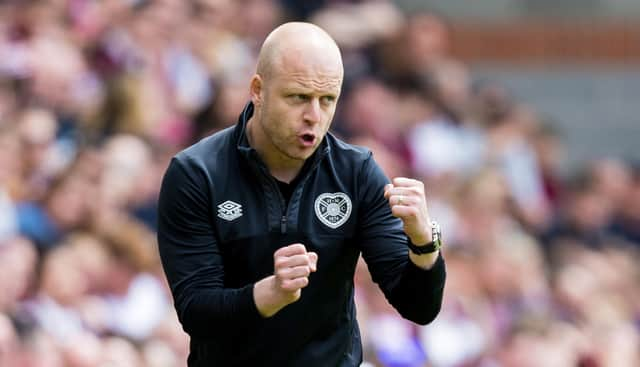 The interim Hearts boss rolled with the punches and while he had said pre-match that his audition for the job on a permanent basis should be about more than one game, the weekend performance did him no harm – in the stands or the boardroom.
Having done what was necessary to ensure the Gorgie side got the point that was needed to finish fourth, bagging bragging rights over their derby foes and a guaranteed shot at European football next term, he was not going to be intimidated into apologising for the way they managed it.
While the Hibs boss tried to bruise Naismith with taunts about his managerial inexperience, it was no surprise that someone as feisty as the Scotland coach countered with a variation on the 'show us your medals' barb, highlighting a playing career that saw him operating at a high level and achieving success under a succession of renowned gaffers, each of whom he has already admitted to studying and learning from.
If, as anticipated, the former Kilmarnock, Rangers, Everton, Norwich and Hearts attacker is appointed as Hearts new manager in the coming days, there is plenty to look forward to as these two continue to duke it out next term.
But while no-one can argue with Johnson's statement regarding the length of tenure, writing the wannabe Hearts manager off on that basis would be a mistake. After all, every manager started somewhere and many of them hit the ground running.
Seven games after replacing Robbie Neilson, there is evidence of some promise, although, as ever when it comes to assembling and guiding a football team, there are no guarantees.
In his short spell in the hot seat, he helped to lift a team that seemed caught in a death spiral, restoring some belief and fight. Against top six sides he managed two victories, two defeats and three draws, and won over the squad, according to former team-mate and Hearts' injured but highly-respected captain Craig Gordon.
Speaking this week he said he believes that if Naismith does get the job then the players will return for pre-season in a positive mood, looking to develop and build on their finish to the past season.
The Scotland goalkeeper, who has witnessed Naismith in his capacity as one of national boss Steve Clarke's backroom team, listed the characteristics that will help the squad to do that. Describing him as someone who thinks about the game, who knows exactly what he wants and how he wants it done, he praised the way he relayed that to the players.
Communication and honesty are traits that Naismith believes are integral to the managerial role, and having honed them while working with the club's B team, he managed to take those interpersonal skills with him when he moved up a level.
When he was appointed interim boss, no-one knew how he would fare and the process of finding a new gaffer was wide-ranging. From whittling down the list of applicants to putting feelers out to contacts at home and abroad, there were candidates who impressed but, as Gordon revealed, Naismith made the most of his opportunity, convincing the board to look closer to home.
Intense but honest, meticulous and determined to take everyone with him, just like he did as a player who would constantly bark orders and cajole those around him, as a manager he makes demands.
An often crabbit wee winner on the pitch and even more moaning loser, his determination was always evident. But on Saturday, he showed that he has matured slightly, proving he also has some composure, when needed, and the presence of mind not to become acutely embroiled in the end of game fracas when he was already on the precipice of a SFA remonstration. It means that should, as expected, he be successful in getting the nod from the board, he will not have to start the new campaign watching from the stand.
But, willing to fight for each other, as proved when down to 10-men in Saturday's derby and in the melee that followed, Naismith also understands the need for a certain brand of football.
Winning is the priority but being able to do it with a bit of a swagger, or by slugging away when the opposition looks vulnerable rather than retreating and protecting what they have, is important to the vibe in the stadium and vital to turning around away results.
Even going back to the plane that once flew over Tynecastle questioning the style and bottle of Neilson's teams, the new man needs to match a decent period of success, and surpass it, but he has to do so in such a way that excites the fans. In the final seven games, there was evidence to suggest that Naismith gets that.
Going toe to toe with teams, and refusing to be cowed, under him the team produced performances he can build on and, as someone who has been around Hearts long enough, he recognises the need to metronomically collect points.
Over the course of the past season Celtic and Rangers emphasised the gulf between them and the rest of the top flight is growing, leaving everyone below them to fight it out for the remaining places and then make a proper fist of challenging in the cup competitions. Naismith will know that is his brief and he won't shirk the challenge. He can roll with the punches but is feisty enough to deliver a few of his own.
All of that offers no guarantee of success, of course, but it does promise a stubborn amount of determination and some interesting interactions.
Comments
 0 comments
Want to join the conversation? Please or to comment on this article.